China's female astronaut quandary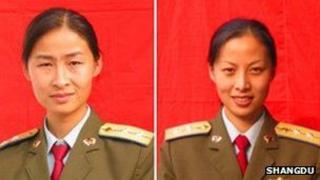 China's space programme is preparing to make its own small piece of history by putting its first female astronaut into space, and China's internet has been buzzing with talk of some unusual selection criteria.
At a launch site in the desert the Shenzhou-9 spacecraft is being readied. It may blast off this weekend, and one of the three crew is likely to be a woman.
In the year that the Communist Party wants to showcase its achievements ahead of a once-in-a-decade leadership change in the autumn, you might expect China's national media to be in overdrive about the event.
Not yet, it seems. The People's Daily's brief announcement with photographs about the two women who have been shortlisted for the mission was noticeably brief.
'Heroines of today'
It may be that everyone is waiting for a safe lift-off before they hail a new national heroine. China is poised to join a small club. Seven nations have sent a woman into space, and only two, the Soviet Union and the United States, have done so using their own spacecraft.
But China's internet users, websites and regional papers have been fired-up by the announcement.
The Netease website published photos of the two candidates, who are both airforce pilots.
More than 76,000 people added comments to the story, and on Monday it was the second most talked about topic on Sina's Weibo microblog.
"Finally, we are going to have our first female astronaut. They are the heroines of today. It means Chinese women have occupied another place in history," said one internet user from Shanghai.
"No matter which one gets chosen, China's proud of them both," wrote Xiaolongfei from Urumqi.
China National Radio News and Phoenix news website said both women are members of the Wuhan Aviation Troop, describing them as "outstanding pilots with super-strong mental qualities who have passed a rigorous selection procedure".
Some reports have described the women as "fighter pilots". But Zhang Jianqi, former deputy commander of China's manned space programme, is quoted as saying that the women are both from the "transport aviation troop".
He added that the selection criteria for female astronauts is similar to that used for men, "the only difference is that for female astronauts, married ones are preferred because they are more mature both mentally and physically".
'Baby eagles'
The first candidate is Major Liu Yang, 34, from Henan Province. She was honoured as a "model" pilot in March 2010 and showed a "rare calm" to land her plane safely after it was struck by 18 pigeons. On the QQ instant message service she goes by the name "little flying knight".
The Shenzhen Special Zone Daily says she is an only child with a penchant for making patriotic speeches.
In a letter home after her first parachute jump, she explained why she never let her parents visit her during her four years in pilot training.
"Baby eagles", she explained, "can never soar under their family's wing".
The paper adds that once, during an English speech competition, she said: "As a female pilot, the sacred rose garden in my heart is the motherland's blue sky."
Up against her is Captain Wang Yaping, also 34, from Shandong Province. She can apparently fly four types of aircraft. She flew missions delivering relief supplies after the 2008 Sichuan earthquake, as well as cloud-seeding aircraft to ensure clear skies over Beijing during the Olympics.
Major Liu and Captain Wang both have one child each.
Little World, a Weibo user in Shanghai, posted a blog saying: "I heard on the radio today female astronauts must not have body odour or decayed teeth. More importantly they must be married and have had children. It must have been a natural delivery. They won't qualify if they have delivered their babies via caesarean-section."
The reasons are apparently that scars could open up in space, dental problems could cause serious complications, and body odour must be avoided in a confined spacecraft.
But the Jinghua Times says Wang Xianmin, an official with China's space programme, has insisted that there is no requirement that female astronauts must already be mothers.
Some on the internet have been quite taken by the photos of the women in their military uniforms. "Wow, they look so cool," said "Kaykay 1013" in Hangzhou.
But "Rayfish" from Beijing was not so impressed, commenting "Their uniforms are really ugly. Can we not design something better to impress the world? Our astronauts' uniforms make them look like fishery workers."
And "Arm2012" from Guangzhou was even less patriotic, writing: "The photos of our female pilots are really not as pretty as American ones."
Whatever you think of the uniforms, if the mission goes off as planned it will also mark another significant milestone.
The astronauts are aiming to complete China's first manned docking with the Tiangong-1 module already in orbit, an important first step towards China's aim of creating a working space station by 2020.