Burma police clash with Muslim protesters in Maung Daw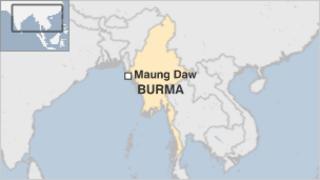 Protesters in the western Burmese town of Maung Daw have clashed with police over a sectarian dispute.
It was not immediately possible to confirm casualties. However, eyewitnesses told the BBC that police opened fire over demonstrators' heads.
The clash occurred when members of Muslim community took to the streets in their hundreds in protest at the killing of 10 Muslims allegedly at the hands of a local Buddhist group.
It follows a week of sectarian strife.
Tensions rose after the alleged rape of a Buddhist woman, blamed on members of the Muslim community in Ramree, in central Burma.
There are differing accounts of casualties in Friday's protests but none of the reports could be independently confirmed.
The protesters reportedly attacked several buildings in the town, including a hospital.
One eyewitness told the BBC that two people had been injured. Other reports put the casualty figures much higher.
Correction, 10 June 2012: This article was corrected to make it clear that eyewitnesses had told the BBC that police fired over protesters' heads, not at them; also that the alleged rape of a Buddhist woman was carried out by Muslims from Ramree, not Maung Daw. A reference to a doctor and his wife being injured during the attack on the hospital was also removed.