US envoy Leon Panetta hails India role in Asia security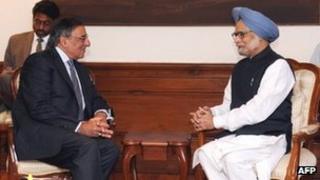 US defence secretary Leon Panetta has emphasised the importance of India's role in providing security for Asia, including in Afghanistan.
He said that India was a "net provider of security from the Indian Ocean to Afghanistan and beyond".
Mr Panetta is in Delhi to discuss the new US strategic focus on Asia.
Talks with India's Prime Minister Manmohan Singh ranged from defence issues to recovering the remains of US troops lost over India in World War II.
"In both meetings, Secretary Panetta discussed the US rebalance to the Asia-Pacific region and the importance the US places on India," a statement from the US defence department said.
Last November, President Barack Obama announced that the Asia-Pacific region was a "top priority" for US security policy.
His comments were seen as a challenge to China, which is striving to be the main regional power.
Mr Panetta also met India's National Security Advisor Shivshankar Menon.
Correspondents say the tour is an attempt to shore up American power in the face of growing Chinese influence.