US drone attack 'targeted al-Qaeda deputy' in Pakistan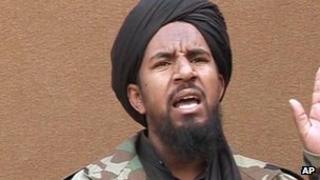 A US drone strike on Monday in Pakistan targeted al-Qaeda's second-in-command Abu Yahya al-Libi, US officials say.
They say it is still unclear whether he was among those killed in the strike on a suspected militant compound in North Waziristan, near the Afghan border.
Two missiles by the unmanned aircraft killed 15 people, Pakistani officials say.
Pakistan's foreign ministry strongly condemned the strike, calling it "illegal", Reuters news agency reports.
The foreign ministry has summoned a US diplomat in the capital, Islamabad, to "officially convey the government's serious concern regarding drone attacks in Pakistani territory".
'Major blow'
A senior US official told the BBC that Libi was the target of Monday's morning strike in Hesokhel, to the east of Miranshah, the main town in North Waziristan.
The first missile struck the compound, killing three militants, Pakistani security officials said.
A second missile then killed 12 more militants who had arrived at the scene, they added.
If Libi's death is confirmed, it would be a "major blow to core of al-Qaeda", the US official told the BBC.
Washington believes that following Osama Bin Laden's death last year, Libi, an Islamic scholar from Libya, became al-Qaeda's second-in-command after Egyptian-born Ayman al-Zawahiri.
Libi is reportedly in charge of day-to-day operations in Pakistan's tribal areas.
Libi was reported killed in a drone strike in Pakistan in 2009, but it turned out to be a case of mistaken identity.
Pakistan's frontier tribal region is considered a hub of activity by al-Qaeda and Taliban militants.
There have been eight US drone strikes in the past two weeks despite Pakistani demands for them to be stopped.
It was the eighth and deadliest attack since 23 March, marking a considerable upsurge in the use of the controversial US drone programme, reports the BBC's Aleem Maqbool in Islamabad.
It has come about since a deal to reopen Nato supply routes through Pakistan fell through.
The Pakistani government closed the routes six months ago in protest at a US air strike along the Afghan border in which 24 Pakistani soldiers were killed.
The episode contributed to the current crisis in relations between Washington and Islamabad, our correspondent adds.
Pakistan says the drone attacks fuel anti-US sentiment and claim civilian casualties along with militants. The US insists the strikes are effective.
The strike comes days after more details of the Obama administration's drone policy emerged in the US.
Administration officials told the New York Times that Mr Obama and top security officials regularly consult on adding militants to a drone "kill list" - and said the US president personally approves or vetoes each strike.