Bangladesh charges Islamist chief Motiur Rahman Nizami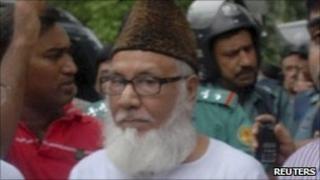 The leader of Bangladesh's largest Islamist party has been charged with war crimes by a special tribunal.
Motiur Rahman Nizami, head of Jamaat-e-Islami, is accused of genocide and other crimes allegedly carried out during the country's 1971 independence struggle against Pakistan.
Earlier this month the tribunal charged Ghulam Azam, the former leader of Jamaat-e-Islami, with war crimes.
The party says the charges are politically motivated.
The International Crimes Tribunal was set up by the Awami League-led government to try those Bangladeshis accused of collaborating with Pakistani forces who attempted to stop East Pakistan (as Bangladesh was then) from becoming an independent country.
The prosecution levelled 16 charges against Mr Nizami including genocide, rape, murder, arson and looting. His trial is set to begin on 1 July.
All of the people currently indicted by the tribunal deny the charges and opposition leaders accuse the government of carrying out a political vendetta.
Bangladesh government figures estimate more than three million people were killed during the independence war, although some researchers put the figure at between 300,000 and 500,000.
Human rights groups have urged the government to ensure the trials are carried out in accordance with international standards.