Tibetan men in 'first self-immolations in Lhasa'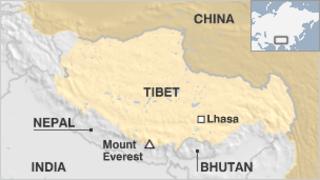 Two men set themselves on fire in the Tibetan city of Lhasa on Sunday, Chinese state media said, confirming earlier reports.
One of the men died and the other "survived with injuries", Xinhua news agency said.
The self-immolations are thought to be the first in Lhasa and the second inside Tibet.
But they follow a series of self-immolations, mostly involving monks and nuns, in Tibetan areas outside Tibet.
"They were a continuation of the self-immolations in other Tibetan areas and these acts were all aimed at separating Tibet from China," Hao Peng, head of the Communist Party's Commission for Political and Legal Affairs in the Tibet Autonomous Region, was quoted as saying.
'Not a trace'
The man who died was identified as Tobgye Tseten, from Gansu province in China. The other man, named Dargye, survived and was able to talk, the Xinhua report said.
An earlier Radio Free Asia (RFA) report had referred to the men as monks and said that the incident took place outside the Jokhang Temple, a well-known destination for pilgrims and tourists.
The Xinhua report said the self-immolations took place on a busy street near the temple. Downtown Lhasa was crowded with people celebrating a Buddhist festival, it added.
The two men were believed to have been among a group of youths who had gathered to protest against Chinese rule, said the RFA report.
Police put out the flames ''within minutes'' of the self-immolations, Xinhua said.
''Within 15 minutes, the area was cleaned and not a trace of the incident was left at the site,'' an eyewitness told RFA.
There have now been more than 30 self-immolations over the past year, primarily among young Tibetan Buddhist monks and nuns. Most of them are believed to have died.
Most of the incidents have taken place in Tibetan areas of Sichuan province in southwest China.
Dargye was reportedly from Aba county in Sichuan province, said Xinhua. Many of those who have set themselves on fire have been in Aba county.
The Kirti monastery in the area has been virtually locked down since a young monk self-immolated and died in March 2011 - leading to mass protests.
Verifying these accounts is difficult, as foreign media are not allowed into the area.
China's leaders blame the Dalai Lama, the Tibetans' exiled spiritual leader, for inciting the self-immolations and encouraging separatism.
He rejects this, and both activist groups and the Tibetan government-in-exile say the self-immolations are protests against tight Chinese control of the region and religious repression.
It is not clear whether this is an organised movement or simply individuals carrying out copy-cat acts of personal protest, reports the BBC's Michael Bristow in Beijing.
But it shows there is deep unhappiness, among at least some Tibetans, about how China rules them, our correspondent says.