Nepal calls elections as constitution deadline passes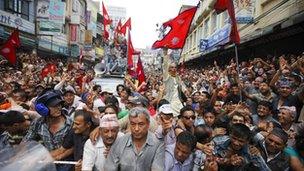 Nepal's prime minister has called elections, after years of deadlock in which political parties have failed to agree a new constitution.
Parliament has been extended four times since 2008 while a special assembly has struggled to reach consensus.
When the latest deadline was missed, Baburam Bhattarai said there was "no alternative" but polls in six months.
Political parties disagree on the issue of whether states in a new federal system should be along ethnic lines.
"Though we were unable to promulgate the constitution, we have decided to seek a mandate through elections for a new Constituent Assembly on 22 November," he announced in a televised address to the nation.
The announcement came after a cabinet meeting decided in favour of elections over declaring a state of emergency, which would have allowed parliament to be extended for six months.
Mr Bhattarai, who is a member of Nepal's Maoist party and leads a national unity government made up of Nepal's four major parties, blamed rival groupings within the coalition for the breakdown of talks.
"I urge all the political parties, civil societies, journalists and general public not to get disheartened and move ahead keeping our hand in hand for a new Nepal, to institutionalise federal republic Nepal," he said.
The prime minister expressed regret over the failure to complete a new constitution but said elections would be the ultimate test of democracy.
Nevertheless his decision was met with anger by some political parties within the coalition who argued elections were unconstitutional.
But there is acrimonious debate over the ethnic identity of states and this has sparked violent protests in recent weeks.
The Maoists want state boundaries which reflect different ethnic groups and are named after them. They say this would bolster the groups' sense of identity and give them more autonomy.
Those who disagree say that such ethnic divisions could cause instability and could sow the seeds of disintegration.
On Sunday, ethnic groups staged demonstrations near the parliament building as the assembly of politicians argued inside.
A police spokesman told Reuters that more than a dozen people had been injured after protesters tried to break a security cordon outside parliament, prompting the police to baton charge the demonstrators and fire teargas.
Nepal's interim constituent assembly was elected for a two-year term when the country became a republic in 2008.
The assembly's formation came two years after pro-democracy protests forced Nepal's king to give up his authoritarian rule and restore democracy in the country.
One of the assembly's first decisions was to abolish the centuries-old monarchy and convert Nepal into a republic.
But its tenure has been extended four times, as political parties have repeatedly failed to draft a new constitution. Recently, the Supreme Court rejected any further extensions.
Political parties have been able to resolve some differences in the past, such as the future of Maoist rebel fighters who were confined to camps after they gave up arms in 2006.
But the ethnic issue has proved intractable.
Meanwhile, correspondents say that many ordinary Nepalis are fed up of the stalemate and political in-fighting. They want a government which can start addressing issues such as economic growth and the desperate need for development.
The BBC's John Parajuli in Kathmandu says there is growing scepticism about Nepal's political leaders.
Many are not confident that the parties will deliver a constitution even if a fresh election is held and a new body is inaugurated, our correspondent reports.
This has led to speculation that the dethroned King could exploit the growing disenchantment with the political class.
Our correspondent notes that a royal family website has been launched, coinciding with the demise of the constituent assembly that overthrew the monarchy.