Taliban deny poison attacks on girls' schools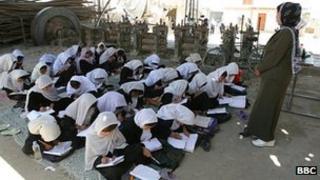 The Afghan Taliban have denied carrying out poison attacks on girls' schools.
A spokesman told the BBC the Taliban condemned any such attack and would punish anyone who carried them out "in line with Sharia [law]".
Militants who oppose the education of girls have been blamed for a string of suspected poisonings in Afghanistan.
In the latest incident, about 40 schoolgirls in Takhar province were taken to hospital complaining of nausea and dizziness.
A day earlier, more than 100 girls from the same school suffered similar symptoms. Police said poisonous chemicals may have been sprayed in the classrooms.
Over the past month, two schools have also been set ablaze in the east of the country.
But spokesman Zabihullah Mujahid told the BBC the Taliban "strongly condemn" such actions "and promise that if we arrest the perpetrators of such actions and cases we will give them punishments in line with Sharia."
"The Mujahideen of the Islamic Emirate of Afghanistan (Taliban) are not involved in these incidents and we totally reject such allegations," he said.
"The fact that schools are being set ablaze or bombed, this could be the work of an individual, but we promise if we find the perpetrators of such incidents we surely will punish them."
The Taliban banned the education of girls during their 1996-2001 regime in Afghanistan.
In last week's incident, about 125 people at Bibi Haji school, in north-east Takhar province, were taken to hospital after complaining of nausea, headaches and dizziness. They included female teachers and girls as young as 10.
A police spokesman said he believed insurgents were trying to spread fear by poisoning schoolgirls.
At the time, the BBC's Bilal Sarwary in Kabul said similar events had been reported before, but no conclusive evidence of poisoning has been found.
The Afghan education ministry recently blamed the Taliban for the closures of more than 500 schools in 11 provinces where they had strong support.