Two jailed over New Zealand Rena ship disaster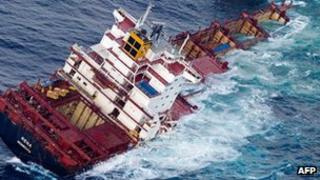 Two officers of the container ship that ran aground off New Zealand, causing its worst maritime spill, have been jailed for seven months each.
Captain Mauro Balomaga and navigation officer Leonil Relon, both from the Philippines, had previously pleaded guilty to mishandling the vessel and altering ship documents.
The Liberian-flagged MV Rena hit a reef off the North Island on 5 October 2011.
Hundreds of tonnes of fuel oil leaked out, causing widespread pollution.
The oil polluted beaches and killed wildlife including thousands of sea birds as it leaked from the ship aground on the Astrolabe Reef.
'Milestone'
New Zealand officials hailed the decision, saying the ship's officers had to be held accountable for their actions.
"This grounding has had significant consequences for the Bay of Plenty community and the country as a whole," said Maritime New Zealand director Keith Manch.
"Today marks a milestone in the response, which is still under way."
An interim report by the New Zealand Transport Accident Investigation Commission stated that the accident occurred as the crew took shortcuts to meet a deadline to reach port.
Prosecutors said the crew had ignored basic navigation practices and deviated substantially from the approved course as they hurried to get to Tauranga port.
In January the grounded ship broke in two, spilling some 300 containers and debris into the water.
The ship's owner Daina Shipping, a subsidiary of Greek shipping giant Costamare, has also been charged over the discharge of harmful substances.
New Zealand's government has estimated the cost of the clean-up at NZ$130m ($108m, £68m).