Philippine farmer fined for shooting and eating rare eagle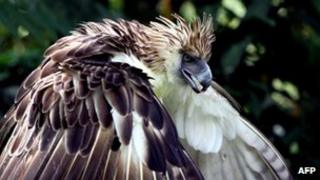 Conservationists in the Philippines have expressed outrage over what they say is a lenient punishment for a farmer who shot and ate a rare eagle.
On Wednesday a Philippine court fined Bryan Balaon 100,000 pesos ($2,300, £1,460) in what is reportedly the first case tried under a 2001 wildlife law.
The 26-year-old shot and ate the Philippine Eagle, a critically endangered bird, in 2008.
But activists say the fine imposed on him was just a "slap on the wrist."
Conservationists believe that there are fewer than 250 adult Philippine Eagles, also known as Pithecophaga Jefferyi, in the wild. The eagle is considered to be the country's national bird.
Under Philippine law, killing an endangered species can result in a jail sentence, a fine, or both.
Dennis Salvador, president of the conservation group Philippine Eagle Foundation, told news agency Agence-France Presse that the opportunity was lost "to send an important message against poachers".
"We find the fine pathetic. He got off with a slap on the wrist," he added.
Wildlife officials had found the remains of the bird at a national park after it was reintroduced into the wild with a tracking device. It was previously rescued from captivity in 2006.
Balaon previously said that he had shot the eagle with an air gun and had eaten it with his friends, not knowing that it was endangered.
His lawyer told local media that they plan to appeal against the verdict in a higher court.