Singapore opposition retains seat in by-election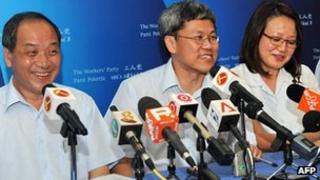 Singapore's opposition Workers' Party has won a closely fought by-election, retaining a seat vacated after an MP was expelled by the party in February.
Candidate Png Eng Huat polled 62.09% of votes in the district of Hougang. Desmond Choo, of the governing People's Action Party (PAP), polled 37.91%.
Workers' Party Secretary General Low Thia Khiang described the win as a "very good result".
PM Lee Hsien Loong said he was pleased that PAP's share of the vote increased.
The vote took place a year after the PAP - which has been in power more than half a century - suffered its worst performance in a general election.
"I respect the choice of Hougang voters. The PAP will continue to be present in Hougang, and I am confident that we will win back the constituency in a future election," Mr Lee said.
Analysts said issues such as a liberal immigration policy, a growing income gap and high salaries for cabinet ministers had stopped the PAP winning more votes.
Hougang, in the island's north-east, has been represented by the opposition for more than 20 years.
The former MP, Yaw Shin Leong, was expelled by the Workers' Party (WP) on 15 February over allegations of an extramarital affair.
Mr Yaw had won the seat over the PAP's Mr Choo in last year's general election, with 64.8% of the votes.
The last poll in 2011 was seen as a landmark election for the city state with significant gains for the opposition, which took six of the 87 seats - their best performance since Singapore's independence in 1965.
Although the ruling party won the great majority of seats, the party's share of the popular vote slipped to around 60% - a drop from about 67% in 2006.
After months of speculation on whether a by-election would be called, President Tony Tan issued the writ of election on 9 May.
Following that, Prime Minister Lee posted a statement on his recently set-up Facebook page.
''The by-election will give Hougang residents the chance to elect a new MP to serve them. I encourage Hougang voters to use this opportunity wisely, to elect the best candidate with commitment and integrity," he said.