Profile: Shakil Afridi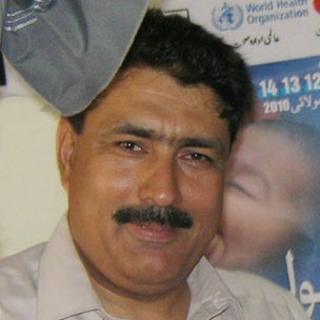 Pakistani doctor Shakil Afridi, who helped the CIA track down al-Qaeda leader Osama Bin Laden, is regarded as a traitor by Pakistan's security agencies.
After the US raid in which Bin Laden was killed, Dr Afridi was swiftly taken into custody for running a fake vaccination programme which helped the US in their hunt for him.
In May he was jailed for 33 years in a controversial hearing held behind closed doors under Pakistan's tribal justice system.
Although he was accused of treason, he was ultimately jailed for alleged links to a banned militant group - charges his family have vehemently denied.
Dr Afridi - believed to be in his late 40s - was the top medic in the Khyber tribal region before his arrest shortly after US troops killed Bin Laden in a raid in Abbottabad on 2 May 2011.
As a government employee, he set up what now is known to be a fake hepatitis B vaccination programme in the region, including Abbottabad.
CIA operative 'Peter'
The US intelligence plan was to obtain a blood sample from one of the children living in the Abbottabad compound, so that DNA tests could determine whether or not they were relatives of Bin Laden.
Dr Afridi had at least two female paramedical staff to help with the project, according to health department officials in Abbottabad.
It is believed that at least one of the women visited the Bin Laden compound to collect blood samples.
But it is not known whether these tests were central to the Americans' success in locating Bin Laden.
Dr Afridi did not know who the target of the operation was when the CIA recruited him, according to a private investigation carried out by retired Pakistani Brig Shaukat Qadir.
Quoting his sources at Pakistan's ISI intelligence agency, Brig Qadir suggested that Dr Afridi was simply following instructions from a CIA operative known to him simply as Peter.
Towards the end of April 2011, however, the doctor became suspicious that the CIA was after a high-value target in the Abbottabad compound.
In January 2012, US officials publicly admitted that he had worked for US intelligence.
After his conviction on treason charges, Dr Afridi was moved to a jail in Peshawar.
Little is known about his personal life, other than he came from a humble background and graduated from the Khyber Medical College in 1990.
He is believed to be married.