Afghan 'poison attack' on schoolgirls in Takhar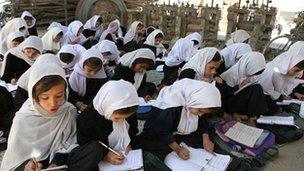 More than 120 girls at a school in Afghanistan have been taken to hospital following a suspected poison attack.
Most have been treated and discharged but 30 - including three female teachers - are still being treated, an official told the BBC.
Police said preliminary evidence suggested that poisonous materials had been sprayed in classrooms at Bibi Haji school, in Takhar province.
They believe that Taliban insurgents may be responsible.
The 125 victims, who include girls as young as 10, were taken to hospital on Wednesday after complaining of nausea, headaches and dizziness.
Police spokesman Khalilullah Aseer said he believed Taliban insurgents were trying to spread fear by poisoning the schoolgirls.
Blood samples have been sent to Kabul for further tests.
Some officials have suggested that the suspected poisoning was made worse because of mass hysteria among school pupils in the aftermath of the attack.
The BBC's Bilal Sarwary in Kabul says similar events have been reported before, but no conclusive evidence of poisoning has been found.
However Afghan officials say the insurgents and other groups are behind a wave of similar attacks against schoolchildren in several provinces.
In April, more than 100 schoolgirls from Takhar were taken to hospital after drinking water at their school that was suspected to be poisoned.
The National Directorate of Security (NDS) intelligence agency said the Taliban appear determined to target schools ahead of a 2014 withdrawal by foreign combat troops.
"A part of their... spring offensive operation is... to close schools," NDS spokesman Lutfullah Mashal told Reuters news agency.
The education ministry said last week that 550 schools in the 11 provinces where the Taliban have strong support had been closed down by them.