Malaysia's Anwar Ibrahim denies protest offences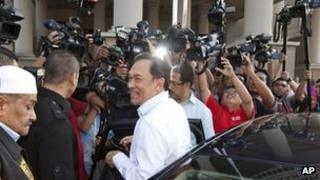 Malaysian opposition leader Anwar Ibrahim has pleaded not guilty to violating laws on street protests.
Mr Anwar and two of his allies were charged over their conduct at a mass street rally for electoral reform that took place in April.
The move comes with elections expected to be called soon. If convicted, the opposition leader could be disqualified from running for office.
He has described the charges as politically motivated.
"We will fight. This is political intimidation," Mr Anwar said at the court.
He accused Prime Minister Najib Razak of being afraid to face him in an election.
The charges carry a possible jail term of six months as well as a fine. A hearing has been scheduled for 2 July.
'Acts of violence'
The charges relate to the 28 April rally during which Mr Anwar addressed thousands of people.
Protesters marched in the capital, in one of the largest rallies in the country in the past decade, calling for changes to the electoral system.
They believe current arrangements favour the prime minister's long-ruling coalition.
The protests turned violent, however, with hundreds arrested as police used tear gas and clubs to break up the rally.
A government statement on Monday said: "The Malaysian public prosecutor has made it clear that charges will be pursued against anyone involved in inciting or committing acts of violence during the recent Bersih protest."
Bersih is the name of the coalition of NGOs behind the 28 April rally.
Mr Anwar has long accused the government of waging a political vendetta against him by inventing criminal cases.
He spent six years in prison on sodomy charges that were eventually quashed.
And he was recently acquitted after a trial on separate sodomy charges.
Sodomy is illegal in Malaysia, even between consenting adults.
Mr Anwar was once deputy prime minister and tipped for the country's highest office before he fell out with top leaders and was beaten, jailed and disgraced.