UN human rights chief Navi Pillay in first Zimbabwe visit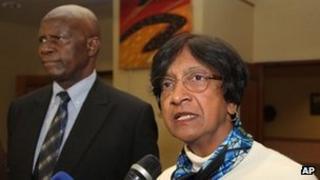 UN human rights chief Navi Pillay has started a week-long visit to Zimbabwe - the first such trip since a violent and disputed election in 2008.
Ms Pillay is expected to meet President Robert Mugabe and his rival, Prime Minister Morgan Tsvangirai.
Mr Mugabe was accused of using soldiers to attack his rival's supporters after losing the first round vote.
After meeting Ms Pillay, the justice minister denied allegations of human rights abuses.
The visit comes two weeks after a landmark decision by a South African court which ordered prosecutors to investigate Zimbabwean officials for torturing political activists .
The ruling invokes South Africa's obligations to the International Criminal Court but has been dismissed by Zimbabwean officials.
In 2009 the UN's then leading torture investigator was denied access to Zimbabwe when officials claimed he was not officially cleared for entry into the country.
Justice Minister Patrick Chinamasa, a close ally of Mr Mugabe, also insisted that "state-sponsored violence" does not exist in the country.
"These are all lies. We told [Ms Pillay] that there are no torture chambers in Zimbabwe," Mr Chinamasa is quoted as saying by the AFP news agency, after leaving a meeting with Ms Pillay.
He added that his meeting with Ms Pillay was cordial but emphasised that Zimbabwe's policy of outlawing gay relationships and criminalising gay sex would not change.
President Mugabe is expected to meet Ms Pillay later this week. The South African is also scheduled to meet defence officials, judges and members of parliament as well as human rights advocates.
Last year the BBC's Panorama programme found that security forces were operating a torture camp in Zimbabwe's profitable Marange diamond fields.
Victims told of severe beatings, as the European Union was pushing to lift a trade ban on some Zimbabwean diamonds.
According to rights groups at least 200 people were killed in violence related to the 2008 presidential poll.