Climbers die on Mt Everest descent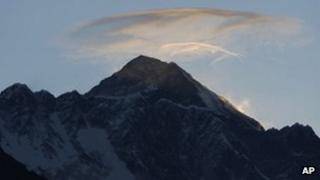 At least three climbers have died while returning from the summit of Mt Everest, Nepali officials say.
The three are reported to be a South Korean, a German and a Nepali-born Canadian woman.
Conditions were favourable on Friday and Saturday morning but a wind storm swept the mountain later on Saturday, Mountaineering Department official Gyanendra Shrestha told AP.
Two more climbers are currently missing, he added.
There are reports at the mountain's base camp that the death toll may rise further.
"There was a traffic jam on the mountain on Saturday. Climbers were still heading to the summit as late as 14:30 [08:45 GMT] which is quite dangerous," Mr Shrestha said.
Officials named the Canadian woman as Shriya Shah, 32, and the German as Eberhard Schaaf, 61.
The South Korean climber, Song Won-bin, died at The Balcony, an area near the top of the 8,848m (29,029ft) peak, Ang Tshering Sherpa of the Kathmandu-based Asian Trekking adventure agency said.
Mr Schaaf had been climbing with the Eco Everest Expedition to remove decades-old rubbish left behind on the mountain.
Ang Tshering Sherpa said the German had died from altitude sickness at the south summit.
The two currently missing on the mountain are believed to be a Chinese national and his Nepali guide.
British climber Matthew Dieumegard-Thornton, who reached the summit in the early hours of Saturday, told the BBC that the number of people on the mountain was manageable but climbers had to behave responsibly.
"On the summit day we had both sides of the story. We had courteous climbers and equally we had climbers who were in their own zone and didn't really want to let us pass after we summited and let us get back down.
"That's where the situation really becomes dangerous."
More than 300 climbers belonging to 33 different teams have received official permits to climb the mountain from the Nepali side this season, mountaineering official Dipendra Poudel told the BBC.
That figure does not include local Nepalis who are assisting the climbers, working as porters or helpers.
Two Nepalis working as guides died on Everest last month.
A study published in the British Medical Journal in 2006 stated that, on average, there had been one death for every 10 successful attempts to scale Mt Everest.
The mountain's worst-ever climbing season was in 1996, when 15 climbers died, eight of them in one day.