US warns North Korea against conducting nuclear tests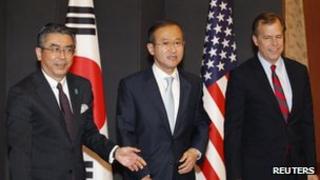 The US has warned North Korea that any nuclear test would be "a serious miscalculation".
Speaking after talks with Japanese and South Korean officials in Seoul, US special envoy Glyn Davies said that any such test would lead to a "swift and sure response" from the region.
The three-way talks came amid reports that North Korea is preparing for a third nuclear test.
A long-range rocket launch in the North failed last month.
The launch came shortly after Washington and Pyongyang agreed on a deal to swap food aid for a moratorium on nuclear and ballistic missile activities.
"We are obviously in a bit of an uncertain period with North Korea" after the rocket launch, Mr Davies, who is the US special envoy for North Korea policy, told reporters.
"It is very important that North Korea not miscalculate again and engage in any future provocation."
Mr Davies is headed for Beijing to meet China's chief nuclear envoy, Wu Dawei, on Tuesday and visit Tokyo on Wednesday, South Korean media reported.
'Path of provocation'
Lim Sung-nam, South Korea's chief nuclear envoy, said he hoped that the talks could "lead North Korea to the right side of peace".
Tension on the Korean peninsula remains high following Pyongyang's failed rocket launch on 13 April.
Pyongyang said at the time it was putting a satellite into orbit, but critics said the launch was a disguised test of missile technology banned under UN resolutions.
The two Koreas remain technically at war after the 1950-53 Korean War ended in a truce.
Last month, South Korea said there were signs that North Korea was planning a third nuclear test.
Meanwhile, the G8 leaders meeting over the weekend warned Pyongyang that it would face more sanctions if it "continues down the path of provocation".
The statement was included in a declaration the group issued at the end of the two-day summit.
"We affirm our will to call on the UN Security Council to take action in response to additional [North Korea] acts, including ballistic missile launches and nuclear tests,'' the group said.