Australia row over new budget cigarette brand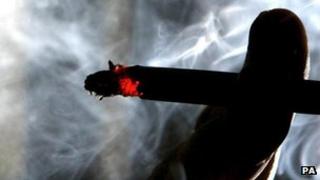 The Australian government has accused British American Tobacco Australia (Bata) of directly targeting teenagers with a new budget brand of cigarettes.
Bata denies this, saying its new brand, Just Smokes, is designed to compete with the black market.
The new cigarettes are on sale for about 25% less than the average packet.
But Health Minister Tanya Plibersek accused Bata of targeting youngsters, who she said were "the most price-sensitive smokers of all".
"What [Bata] are interested in doing is attracting new smokers and keeping existing smokers, and they'll do whatever it takes," she added.
However Bata says the new cigarettes are designed to appeal to smokers who have been buying illegal products, which are even cheaper.
The company said that since the government increased tobacco taxes by 25% in 2010 there had been significant growth in the contraband market.
Bata spokesman Scott McIntyre told AFP news agency: "It's a simple issue of supply and demand. Our customers have been down-trading to cheaper products or to illegal cigarettes, so we've been forced to compete".
The Australian government and big tobacco companies are already locked in a long-running dispute over new laws that will mean all cigarettes will be sold in plain packets with graphic health warnings by the end of the year.
Four tobacco companies are contesting the legislation in the High Court, claiming it infringes their intellectual property rights by banning brands and trademarks.
They also say it will lead to an increase in fake products because the plain packaging is easier to copy.