Malaysia: Three Mexicans among five sentenced to death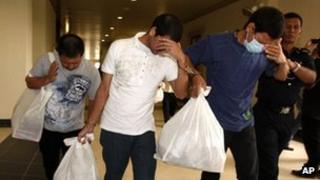 A Malaysian high court has sentenced five men, including three Mexican brothers, to death for drug trafficking.
Police arrested the men in a drug-making facility in 2008. They claimed that they were cleaners and not making drugs.
The defendants, who also include a Singaporean and a Malaysian, plan to appeal the sentence.
Death is the mandatory penalty for drug trafficking in Malaysia.
Reports say that police found more than 29 kilograms (63 pounds) of methamphetamine worth an estimated $15m at the facility in the southern state of Johor where the men were arrested.
The three brothers are reportedly the first Mexicans arrested in the country on drug trafficking charges.
"The court finds all five accused are aware and are involved in the activity of drug-making," High Court Judge Mohamad Zawawi was quoted by the Associated Press (AP) news agency as saying.
"We are very sad. We thought we would be acquitted," said Luis Alfonso Gonzales, the eldest of the three Mexican brothers, as quoted by AP.
According to a report from rights group Amnesty International (AI) in 2011 , more than half of known death sentences in Malaysia were for possession of illegal drugs above certain specified quantities.
Malaysia said last year that it had hanged more than 440 people, mostly for drug crimes, in the past 50 years.