Japan penguin escapee 'spotted' in Tokyo Bay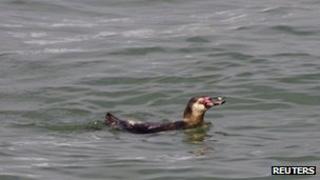 A penguin which escaped from Tokyo's Sea Life Park has reportedly been spotted swimming in waters around the Japanese capital.
The one-year-old Humboldt - which fled its enclosure in March - was caught on video near Tokyo's Rainbow Bridge, according to Reuters news agency.
A Sea Life Park official identified it as the escapee, recognising a distinctive ring round a flipper.
"It looks like it's been living quite happily," Kazuhiro Sakamoto said.
"It didn't look like it has got thinner over the last two months - or been without food," he added.
In March, the penguin - known only as No 337 - escaped by scaling a rock wall and a barbed-wire fence, the Tokyo Sea Life Park believes.
It says the penguin now most likely feeds on small fish in Tokyo Bay and returns to the shore to rest at night.
After the escape, the aquarium launched an appeal for help, sending some of its employees on a daily penguin hunt throughout Tokyo Bay.
The penguin hatched last January and lived with 134 penguins in the enclosure. Humboldt penguins breed on the Pacific coast of South America and offshore islands of Chile and Peru.
They are thought to be declining in number. One of the reasons is due to increasing water temperatures caused by the El Nino effect and reduced food supply.