Protests in Bangladesh after opposition leaders arrested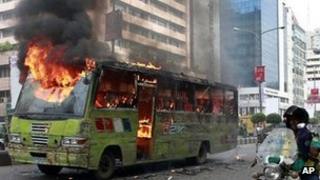 Demonstrators and police have clashed in the Bangladesh capital Dhaka after 33 senior opposition figures were arrested in connection with anti-government protests last month.
The main opposition Bangladesh Nationalist Party has called a nationwide general strike for Thursday.
"We are awestruck at the court's decision not to grant bail to our top leaders," a BNP spokesman said.
The BNP leaders deny involvement in an arson attack during protests in April.
They include Mirza Fakhrul Alamgir, the acting secretary of the BNP led by Khaleda Zia, and former Dhaka mayor Sadeq Hossain.
"It's totally unbelievable and a fabricated case," BNP spokesman Nazrul Islam Khan told AFP news agency.
Following the arrests, there were angry scenes outside the court in Dhaka. Police baton-charged angry demonstrators and a number of vehicles were attacked and set alight in the capital and several other towns, news reports said.
The BNP leads an 18-party alliance that has been protesting at alleged government involvement in the disappearance of dozens of people in recent months. There is particular concern over the fate of a senior BNP politician, Ilias Ali, who went missing in April.
Police found his car abandoned in Dhaka and his driver is also missing. The government denies ordering his abduction.
Opposition parties are also demanding that Prime Minister Sheikh Hasina's administration restore a caretaker government system to oversee the next general elections which are due in 2014.