Pakistan 'likely to attend' Nato talks on Afghanistan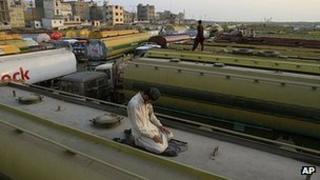 Pakistan's President Asif Ali Zardari is set to be at this weekend's Nato summit on Afghanistan.
The Pakistani embassy in Washington told the BBC he was "likely to attend" the meeting in Chicago.
Nato said Pakistan had an important role to play in its neighbour's future.
The move comes amid signs that Pakistan may be about to lift a blockade of Nato's ground supply lines to Afghanistan imposed in November, after a Nato air strike killed 24 soldiers.
The closure of the route, after the Pakistani soldiers were killed, left thousands of tankers bound for Afghanistan stranded in Pakistan.
BBC correspondents say Pakistani leaders may have decided the blockade of Nato shipments is counter-productive and has resulted in the country being sidelined in planning for Afghanistan's future.
Pakistan's government is also due to present its budget later this month, and badly needs US aid.
Pakistan stayed away from the last major summit on Afghanistan, which was held in Bonn in December.
'Levy'
Pakistani lawmakers unanimously approved new guidelines for bilateral ties with the US in mid-April. They demanded that the US provide an "unconditional apology" for the November attack and stop drone strikes.
Correspondents say that although parliament did not explicitly link these issues to reopening the supply lines, they have complicated matters because Washington has expressed regret only for the soldiers' deaths - stopping short of an outright apology - and continued with drone strikes.
Pakistani MPs also support the idea of Nato paying Islamabad a levy to use the routes, in addition to paying the lorry drivers' salaries.
The Nato invitation to Chicago came as Pakistani civilian and military leaders were to meet to discuss reopening the border crossings. Correspondents say the cabinet could formally approve a lifting of the blockade on Wednesday.
Pakistani Foreign Minister Hina Rabbani Khar said on Monday that parliament had given the government detailed recommendations about new terms of engagement with Nato.
"Pakistan's strategic objectives in the region, and the stated objectives of the West... that of peace and stability for Afghanistan... are exactly the same. They are identical," she said.
"So we want to continue to be a facilitator and an enabler and not a blocker. And this is what Pakistan has tried to achieve."
Ms Khar said that "closure" was needed on past disputes and both sides needed to "move on" after Pakistan has "made a point" in relation to the border deaths.
Reopening the border risks a domestic backlash in Pakistan, correspondents say, especially after Washington's refusal to apologise for last year's attack, which it says was an accident.
But this move and attending the Chicago conference could give Pakistan a more concrete role in the future of Afghanistan as Nato prepares to withdraw all combat troops from the country in 2014.
The supply lines will become increasingly important as that deadline approaches, because Nato needs to withdraw huge amounts of equipment amassed over more than a decade.
Correspondents say the US has recently reduced its reliance on Pakistan by using a more costly route through Central Asia.
The summit in Chicago on Sunday and Monday is said to be the largest meeting Nato has organised, with about 60 countries and organisations attending.