UN envoy rebukes Cambodia over shooting of protesters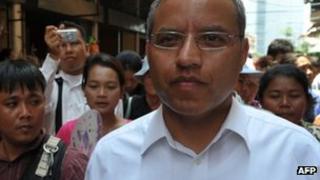 A UN special envoy has has called for a halt to the increasing use of firearms against human rights activists in Cambodia.
Surya Subedi told the BBC that a series of recent incidents had caused him great concern.
A prominent forestry activist was shot dead by military police last month.
Earlier Mr Subedi also expressed concern about the squalid conditions endured by more than 100 evicted families in the capital.
Both issues relate to the purpose of Mr Subedi's visit - the controversial issue of government land concessions to private companies for development.
String of shootings
Mr Subedi could not have timed his visit better, says the BBC's Guy De Launey in Phnom Penh.
Land was the hot topic in Cambodia even before the fatal shooting of Chut Wutty three weeks ago.
But the activist's death has highlighted an apparent increasing willingness to use force against protesters, our correspondent says.
There have been several other recent shooting incidents involving land protests - rubber plantation guards shooting and wounding protesters, police throwing rocks at residents about to be evicted, and a local government official firing at demonstrating garment workers.
"The killing of Chut Wutty - I was very much concerned by it," Mr Subedi said.
"There were a number of other incidents of a similar nature that involved the use of firearms against human rights defenders.
"So I'm very much concerned by the trend - and that should be halted."
Mr Subedi added that bullets were not the only threat to Cambodian protesters. He said the use of defamation and incitement laws against campaigners was producing a chilling effect - and leading to self-censorship.
Earlier on Wednesday Mr Subedi said he was "very concerned" about the plight of about 117 evicted families in Phnom Penh, reported AFP news agency.
The conditions they were living in did not "seem adequate for the 21st Century", Mr Subedi said during a visit to the families, some of whom now squat underneath building stairwells.
The families were forced out of their dwellings in the Borei Keila district amid violent clashes with police in January, and have refused to move to a new location outside the city.
He said he would discuss their situation with government officials - whom he says have been receptive to his concerns but slow to carry out the recommendations.
Earlier this week, the government announced that it would temporarily halt the granting of economic land concessions while the policy was assessed.