China warns Philippines on 'mistakes' in maritime spat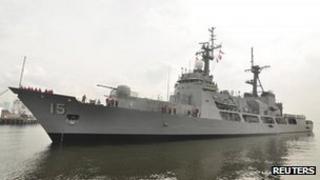 China has issued fresh warnings to the Philippines over a month-long stand-off in the South China Sea.
China was prepared to respond to ''any escalation'' in the maritime situation, Vice Foreign Minister Fu Ying said.
She also warned the Philippines it was making ''serious mistakes'' and damaging relations.
The two countries have accused each other of maritime intrusions into disputed waters at the Scarborough Shoal.
China claims sovereignty over a large U-shaped area of the South China Sea, bringing it into dispute with several neighbouring countries.
Philippine and Chinese vessels have been facing off at the shoal since 8 April.
'Right track'
Chinese ''government vessels'' will ''continue to be alert'' in the area because of ''continuous provocation'' by the Philippines, Ms Fu said.
The strongly-worded message was delivered in a meeting she called on Monday with Alex Chua, charge d'affaires of the Philippines embassy in China, said a statement posted on Tuesday on the Chinese foreign ministry website.
''The Chinese side has also made all preparations to respond to any escalation of the situation by the Philippine side,'' she reportedly said.
Ms Fu asked the Philippines to withdraw its ships from the area. ''China once again urges the Philippine side to seriously respond to China's concerns and return to the right track for handling the matter,'' she said.
The row began early last month when the Philippines said its naval ship had found eight Chinese fishing vessels at the shoal.
Two Chinese surveillance ships then arrived in the area, placing themselves between the warship and the fishing vessels, preventing the navy from making arrests and allowing the fishing boats to leave.
Late last week the Philippines said there were four Chinese surveillance ships and 10 fishing boats in the disputed waters, as well as a Philippine coastguard vessel and a fisheries bureau ship.
Manila has asked China to settle the issue at the International Tribunal on the Law of the Sea (ITLOS).
"We do not wish to escalate any tensions right now," President Benigno Aquino's spokesman told reporters last week.
"Therefore, what we're doing for now is to just to document the situation... and consequently, raise it before the tribunals."