Thai industrial complex suffers deadly fire and blast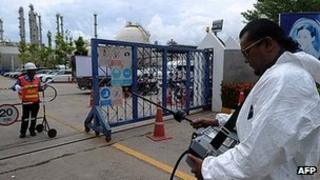 At least 12 people have been killed and more than 100 injured as explosions and a fire hit Thailand's largest petro-chemical complex.
Hundreds of residents living near the Map Ta Phut plant, in Rayong province, were evacuated and experts are monitoring the area for possible chemical contamination.
The cause of the blast is not known.
The plant has been at the centre of a long-running dispute by local residents and environmental campaign groups.
The blaze, which sent plumes of acrid black smoke over a wide area, was brought under control after four hours.
Looking for clues
Rayong Governor Seni Jittakasem said the explosions happened on Saturday when workers were cleaning a chemical tank at a synthetics factory on the site.
He said most of the dead were workers at the plant and that all those evacuated had returned home.
Lt Col Charoen Vititkornkul, of Map Ta Phut police, said forensic teams were sifting through the debris looking for clues.
"We are also looking for any more bodies," he said.
Thai Prime Minister Yingluck Shinawatra has set up a committee of experts to examine possible toxic contamination in the wake of the blaze, the Bangkok Post reported.
Rayong province, about 140km (90 miles) south-east of the capital Bangkok, is one of Thailand's largest industrial areas.
The Map Ta Phut complex is one of the biggest petro-chemical hubs in the world.
Heavy pollution from the complex was first noticed in the 1980s, but it was not until 1997 that villagers began to campaign after children were taken ill and rates of cancer and other illnesses surged.
In a long-running legal battle, local residents and environmentalists managed to stall construction of 76 projects there before a court ruling in 2010 said building work could be resumed.