US and China close to deal on Chen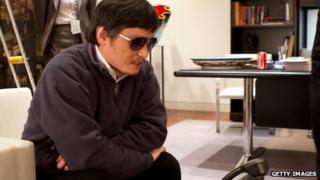 There now appears to be a way out of the stand-off between China and the United States over activist Chen Guangcheng - but a deal has not yet been done.
China said it could allow Mr Chen to leave the country and the Americans have indicated they are willing to welcome him and his family.
But it is clear that behind-the-scenes negotiations on what to do with the blind human rights activist have not gone smoothly.
Mr Chen is being closely guarded and some US diplomats were prevented from seeing him on Friday, for a second day.
China and the United States also expressed their differing views on human rights.
Chen Guangcheng emerged from the US embassy in Beijing on Wednesday, just a day before high-level talks between China and the United States.
He had been there for six days.
The 40-year-old fled there after escaping from his village where he had been a prisoner in his own home for more than 18 months.
Change of mind
He left the embassy thinking he had secured a deal to stay - in safety - in China. The Americans thought the same.
But after just a few hours Mr Chen changed his mind when he found out that while he had been in the embassy his wife had been mistreated.
He appealed to the Americans to allow him and his family to go the United States.
But when Friday dawned it was unclear whether the US would help Mr Chen to leave China - and whether China would allow him to go.
Events moved quickly as the hours ticked by. China's foreign ministry put out a statement in the afternoon saying that Chen Guangcheng would be allowed to leave the country.
"If he wants to study abroad, he can apply through normal channels to the relevant departments in accordance with the law, just like any other Chinese citizen," said spokesman Liu Weimin.
That news was broadcast on a regular bulletin by China Central Television, the country's national TV station.
It appeared that China was willing to let go of an activist who had become a folk hero for helping uncover forced abortions and sterilisations in his home province of Shandong.
But China was still blocking access to Mr Chen, receiving treatment for a broken foot in Chaoyang Hospital in central Beijing.
Surveillance
The activist was worried. "My situation is not good. I just found out that my friends were beaten up when they tried to visit me," he told Reuters news agency.
His wife was allowed to go shopping only after being granted permission by the authorities. When she eventually went out, she was filmed, said Mr Chen.
Robert Wang, the deputy head of mission at the US embassy in Beijing, went to the hospital on Friday with gifts, but was stopped from seeing Mr Chen.
A group of plainclothes security guards stood menacingly across the entrance to G Block, where the activist is languishing. The presents had to be left at the door.
A doctor and a translator from the US embassy were eventually allowed in to see him.
When a petitioner turned up outside the hospital, China also showed exactly how intolerant this country is towards dissent.
Petitioners are people with personal grievances who travel to Beijing in the hope that the central government will help them out.
This female protester held up a banner in front of journalists detailing what she claimed was corruption at the Daqing oil fields in north-eastern China.
She was quickly dragged away and pushed into a police van, which then drove off.
Spin
Meanwhile, China and the United States were trying to get on with the fourth round of the strategic and economic dialogue at the Diaoyutai State Guesthouse in west Beijing.
These are annual, wide-ranging discussions. Despite their best efforts to get on with other business, Mr Chen's plight intruded into the deliberations.
US Secretary of State Hillary Clinton said it was right for the Americans to raise the issue of human rights. Dai Bingguo, her opposite number, had a different point of view.
"Human rights issues should not disturb state-to-state relations, and they should not be used as an excuse to interfere in the internal affairs of other countries," he said.
At the end of the day, the United States was putting the best spin possible on the developments involving Mr Chen. Mrs Clinton held a press conference in which she said she was encouraged by progress in the dissident's case.
Washington acknowledged that China had said Mr Chen could get travel documents and leave the country.
"The United States government expects that the Chinese government will expeditiously process his applications for these documents," said state department spokeswoman Victoria Nuland in a statement.
Mr Chen and his family are not thought to have passports. They could have to travel back to Shandong to get them from the very officials that previously had them under house arrest.
The saga surrounding Mr Chen is not over yet.