Australian man becomes world's oldest graduate at 97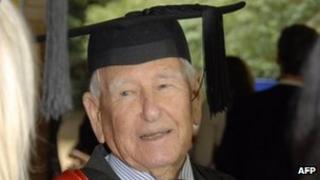 An Australian man will break his own record as the world's oldest graduate when he receives his masters degree at the age of 97, local media report.
Allan Stewart, who entered the Guinness World Records in 2006 when he completed a law degree at the age of 91, is graduating in clinical science from Southern Cross University.
This is his fourth degree after completing dentistry in 1936.
He went back to school in his 80s to keep himself mentally active.
Mr Stewart, who was born in 1915, has six children, 12 grandchildren and six great-grandchilden.
He worked as a dentist and earned his second degree in dental surgery.
He finished his third degree in law - typically six years - in less than five because he said that "time was of the essence and I better get a wriggle on in case I didn't make my graduation".
"I think I can hang up my mortar board and academic robes after this one - although I said that after my last degree and then I got bored," Mr Stewart told Agence-France Presse news agency before his graduation ceremony late on Friday in the state of New South Wales.
Mr Stewart said people were never too old to study.
"It is never too late to expand your mind, make new friends and challenge yourself to achieve something worthwhile."