Bangladesh teacher 'burns' legs of girl pupils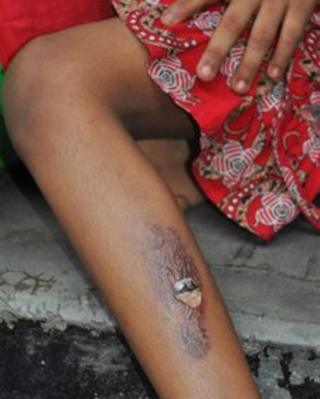 Police in Bangladesh are looking for a teacher from a Muslim religious school who allegedly placed burning hot iron rods on the legs of her students for failing to offer prayers regularly.
They say 14 girls, aged between eight and 12, received burn injuries.
The school has been temporarily closed following the incident, while the "hellish experience" of the girls has been widely reported in newspapers.
Their injuries are not thought to be serious.
The Bangladeshi government banned all corporal punishment in all educational institutions, including religious schools - or madrassas - in 2010.
"I was shocked to see the burn injury of my daughter," Jumur Akhter, mother of one of the affected students, told the BBC.
The girls were learning Arabic and Bengali at the Talimul Koran Mahila madrassa at Namashyampur in Dhaka. The incident is said to have happened on Tuesday.
"It was the first day of the madrassa after our holidays. Our teacher got angry when she heard that we were not offering regular prayers during our vacation," said Ferdousi Akther, aged eight.
"Then she asked her servant to heat up the rod and then she pressed it on our legs. The pain was unbearable."
Pupils say that the teacher asked the students whether they knew the severity of the fire in hell.
They were allegedly told that if they did not offer prayers regularly, they would experience a similar punishment.
Hiding
The neighbourhood of small businessmen, day labourers and garment factory workers is shocked over the incident.
"This is... human rights violence on children. The government has been trying to stop this kind of violence against children, especially in educational institutions. But the implementation is weak," Rasheda K Chowdhury of the Campaign for Popular Education said.
Police are investigating the incident following complaints by parents.
"We have registered a case against the madrassa teacher following a complaint by the father of a girl. The teacher and her husband have gone into hiding. We are still searching for them," Shafiqul Islam, a police officer in charge of the Kadamtoli area of Dhaka told the BBC.
Parents, meanwhile, say that they are reluctant to carry on sending their children to the madrassa.
"If we had a government school in the vicinity then we would send them there. But the nearest government school is far away," said Sumaiya Begum, mother of another student who received injuries.
"That is why we have to send our children to this madrassa."
Bangladesh has two types of madrassas.
There are more than 16,000 state-sponsored Alia madrassas across the country teaching more than five million students.
Apart from Islamic studies, students in these institutions learn English, maths and science.
The second type are Qaumi madrassas, which are independent and run by donations from people inside and outside Bangladesh. They focus mainly on Islamic studies.
Almost every village in Bangladesh has a Qaumi madrassa. People from poorer communities tend to enrol their children in them when there are no government-run schools in their villages.
Officials are checking to see which category the Talimul Koran Mahila madrassa falls into.