'North Korea jamming' hits South Korea flights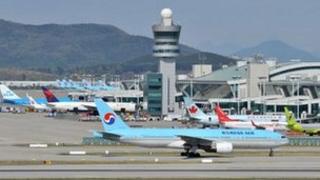 Jamming signals thought to be from North Korea have affected GPS navigation on at least 250 flights, South Korean officials say.
Nine South Korean and nine foreign airlines have been affected since Saturday, the Transport Ministry said.
The flights had to rely on alternative navigation systems but were in no danger, the ministry added.
The South has accused the North - with which it remains technically at war - of similar incidents in the past.
"We've confirmed the GPS [global positioning system] jamming signals have been stemming from the North," Lee Kyung-woo, deputy director at Seoul's Korea Communications Commission, was quoted by Agence-France Presse news agency as saying.
The transport ministry has not set out who was to blame. But director Kim Choon-oh told the agency the GPS disruption was noticeable at Incheon international airport.
He said there was "no serious threat to the safety of flights because planes are using other navigation devices".
South Korea has accused Pyongyang of jamming before, in August 2010 and March 2011.
Ongoing conflict
Tension on the Korean peninsula remains high following Pyongyang's failed rocket launch over the Yellow Sea on 13 April.
Pyongyang said at the time it was putting a satellite into orbit but critics said the launch was a disguised test of missile technology banned under UN resolutions.
The two countries remain technically at war after the 1950-53 Korean War ended in a truce.
On 23 April, the North warned of "unprecedented" action against the South, saying a special operation to begin "soon" would "reduce its target to ashes".
Last week, South Korea said there were signs that North Korea was planning a third nuclear test. It conducted its last nuclear test in 2009 amid the uproar over its missile tests earlier that year.