UN Secretary General Ban Ki-moon in Burma visit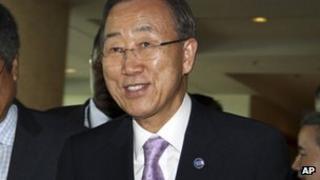 The UN Secretary General Ban Ki-moon is making a landmark visit to Burma to meet Aung San Suu Kyi and press the government for more democratic reforms.
Mr Ban has said that Burma's transition has reached "a critical moment".
The trip is the latest high-profile diplomatic visit to the once-isolated nation and his first since a reformist government took office a year ago.
On Saturday, the EU foreign policy chief announced the EU would open an embassy-level office in the country.
Before arriving in Burma, Mr Ban said the country was "re-opening to the world".
"The fresh start is still fragile," he said in New York before leaving for Burma.
Mr Ban left frustrated after his last visit, in July 2009, after he was invited by former junta strongman General Than Shwe.
He was denied access to Nobel Peace Prize laureate Aung San Suu Kyi - in detention at the time but released 15 months later - and left describing the trip as a "very difficult mission".
Poppy programme
This time, Mr Ban is due to hold face-to-face talks with Aung San Suu Kyi on Tuesday as well as making an address to the country's fledgling parliament, the first by a foreigner.
Mr Ban is scheduled to fly to the remote capital Naypyitaw later on Sunday and hold talks with President Thein Sein on Monday.
He is also due to visit the northern Shan State, one of the world's biggest opium-growing regions, where the UN has started a poppy eradication programme.
Earlier this week, the EU suspended non-military sanctions against Burma for a year in recognition of "historic changes".
The bloc's foreign policy chief Catherine Ashton - who is also currently in the country - said the EU's new office in Rangoon would offer investment and expertise, and oversee the management of aid programmes, particularly in remote rural areas.
EU diplomats have said that the new office in Rangoon will also have a political role.
The BBC's South East Asia correspondent, Rachel Harvey, in Rangoon, says that these visits reveal a rapidly escalating process of international engagement between Burma and the rest of the world.
There is, our correspondent explains, a growing determination among foreign governments to try to keep this country on the right track and to seek to reap the potential investment opportunities that might follow.