Australia bushfire starter Sokaluk jailed for 17 years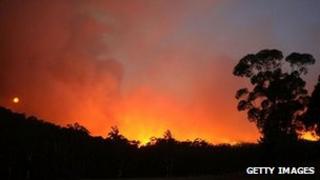 An Australian man has been sentenced to 17 years and nine months in jail for starting a blaze that killed 10 people.
Former volunteer firefighter, Brendan James Sokaluk, 42, started what became known as a "Black Saturday" bushfire in February 2009.
It destroyed 156 homes and was one of hundreds of fires in the Australian state of Victoria that month.
Sokaluk said the fire was an accident caused by a cigarette, but the court found he started it deliberately.
The fire at Churchill was one of many on 7 February 2009 - a day that became known as Black Saturday when a series of simultaneous bushfires raged in hot, dry, windy conditions.
At the same time, other fires in Victoria killed a further 163 people in what has been described as Australia's worst natural disaster.
During sentencing the judge said he accepted Sokaluk did not intend to kill anyone, but he must have been aware of the potential danger.
Temperatures that day hit 43.6C and Justice Paul Coghlan described the fire's consequences as "truly catastrophic" after a sudden wind change in the evening.
He added that no sentence he could impose would provide compensation for the victims' families but said it did "bring to an end one part of the process".
Sokaluk will serve at least 14 years in prison before he becomes eligible for parole.
The judge said he took Sokaluk's mild intellectual disability and autism spectrum disorder into account in his sentencing.