More than 220 forest fires spread across Nepal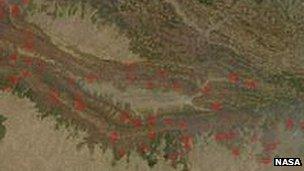 Forest fires have broken out in 225 places across Nepal, officials say, with some communities in remote areas struggling to control the flames.
Officials say that the fires - some of which have been burning since March - are caused by a long dry spell, discarded cigarettes and windy weather.
One such blaze in the mid-west of the country has destroyed 600 hectares (1,482 acres) of forest, officials say.
Forest fires in Nepal peak during the pre-monsoon dry months.
These usually last from late March to early May.
Officials say that while no casualties have been reported so far, a village in the remote far west was nearly engulfed by flames on Wednesday.
The BBC's John Parajuli in Kathmandu says that while most communities across Nepal have designated teams of firefighters, many lack proper equipment to fight outbreaks that are sometimes huge.
"Fires can be used as a tool for forest management, but if they become uncontrollable that can be dangerous," forestry ministry spokesman Yajnanath Dahal said.
Mr Dahal said that most fires do not cause loss of human life and may even support seed growth.
But others, he said, can negatively affect soil compactness, seed germination and tree stocks.
Related Internet Links
The BBC is not responsible for the content of external sites.