Pakistan bomb: 'Two killed' at Lahore railway station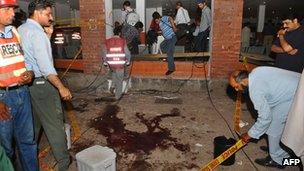 At least two people have been killed in a bomb blast in the Pakistani city of Lahore, police say.
Rescuers say another 25 were wounded and taken to hospital after the blast at the main railway station in the east of the city.
TV pictures showed a waiting room at the station which bore the brunt of the blast, its floor strewn with broken glass and upended furniture.
Lahore has seen many bombings in the past, but this is the first for months.
It is not clear who carried out the attack, which police say was an act of terrorism.
They say ball bearings have been recovered from the site of the blast, which suggest it could have been a timed device. The bomb went off five minutes after the arrival of an express train in the station.
Pakistan has suffered a wave of militant violence that has killed thousands in recent years, as well as deadly sectarian conflict, mostly between majority Sunni and minority Shia Muslims.
Bomb disposal officials told the Express Tribune newspaper that about 5kg (11lb) of explosive material had been used in the bomb, which was planted in a bag at the waiting room.
The newspaper said the station had now been evacuated.
"We're trying to investigate how the bag managed to get through despite so many scanners," senior police official Aslam Tareen told the Reuters news agency.
Police say the dead include a policeman and a porter, but there are some reports a third porter has also been killed.
Health officials say five of the wounded are in a critical condition in hospital.
A photographer for the AFP newspaper at the scene said that the bomb went off near the lounge for the luxury Business Express train to Karachi, a service launched two months ago providing first-class travel between Pakistan's two largest cities.
The last major attack in Lahore was in January 2011, when at least 11 people were killed in a suicide bomb attack on a Shia procession.
The previous year - in September 2010 - 31 people were killed in an attack on another Shia procession in the city.
In July of that year two suicide bombers attacked the Data Darbar Sufi shrine in Lahore, killing at least 42 people. Two months before that, gunmen launched simultaneous raids on two mosques of the minority Ahmadi Islamic sect in the city, killing more than 90 people.