EU agrees to suspend most Burma sanctions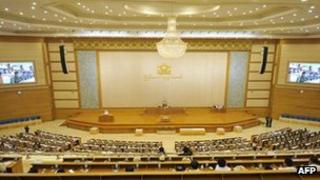 The European Union has formally agreed to suspend sanctions against Burma for a year in recognition of "historic changes", officials say.
An embargo on arms sales, however, will stay in place, the EU Council said.
The EU had imposed measures against individuals and companies from Burma. It had also withheld some aid money.
The move comes after Burma's parliament re-opened amid a boycott by the opposition because of a row over the oath of office for MPs.
The EU decision , which had been expected, will take effect later this week.
"The European Union has followed with respect and appreciation the historic changes in Myanmar/Burma over the past year and encourages the wide-ranging reforms to continue," a statement released by the Council of the European Union at the ministers' meeting in Luxembourg said.
"As a means to welcome and encourage the reform process, the council will suspend restrictive measures imposed on the government, with the exception of the arms embargo, which it will retain."
Close monitoring
It said it would continue to "monitor closely the situation on the ground" and constantly review its measures, as well as "respond positively to progress on ongoing reforms".
The council, however, still "expects the unconditional release of remaining political prisoners and the removal of all restrictions placed on those already released".
British Foreign Secretary William Hague also said that while "great progress has been made in Burma", they were still "very concerned about conflict and human rights abuses".
"This illustrates why it would be right to suspend, not to lift entirely the sanctions. They can be reimposed if Burma turns in the wrong direction," he said.
Meanwhile, the National League for Democracy (NLD) party of pro-democracy leader Aung San Suu Kyi did not attend today's parliament session, saying they want to swear to "respect", rather than "safeguard" the constitution, which they say is undemocratic.
The 1 April by-elections saw Ms Suu Kyi and 42 NLD members elected as MPs.
"Only after the wording in the oath has been changed will we be able to attend the parliament," Ohn Kyaing, NLD spokesperson and newly-elected MP, told BBC Burmese.
The upper house of parliament convened in the morning and the lower house in the afternoon.