North Korea vows 'unprecedented' action against South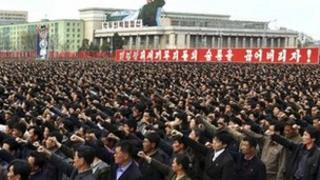 North Korea has warned of "unprecedented" action against South Korea's ruling establishment, amid tough rhetoric between the two sides.
A special operation to begin "soon" would "reduce its target to ashes", the military said in a statement.
On Friday North Korea also held a rally calling for the death of South Korea's president, condemning his comments against the North.
Seoul said last week it had deployed more missiles against the North.
A defence ministry spokesman said the missiles had a range of 1,000km (625 miles) and could hit any of Pyongyang's nuclear or missile sites.
'Rat-like'
The North's statement directly criticised South Korean President Lee Myung-bak, the defence minister, analysts and "rat-like elements" including conservative broadcasters, who were accused of "destroying fair-minded public opinion."
The statement, which was read out on state television, said that "the special actions of our revolutionary armed forces will start soon to meet the reckless challenge of the group of traitors".
North Korean rhetoric has been getting sharper in recent days following its failed rocket on 13 April, reports the BBC's Lucy Williamson.
Pyongyang said it was putting a satellite into orbit but critics said the launch was a disguised test of missile technology banned under UN resolutions.
The relationship between the two Koreas has also been especially strained since Mr Lee assumed office in 2008 because of his government's policy towards the North, linking food aid to progress on nuclear disarmament.
But North Korea has reacted strongly towards the South over its criticism of the rocket launch, which it said was to commemorate the centenary of the birth of founding leader Kim Il-sung.
"Those actions are an eruption of the public anger and resentment and a sacred war of all service personnel and people to protect the dignity of our supreme leadership," North Korea said.
On Sunday the North's major ally China, however, vowed closer ties.
China's most senior foreign diplomat, Dai Bingguo, told North Korean visiting official Kim Yong-il that it would "push friendly and co-operative China-North Korean relations to a new level", according to a statement released by its foreign ministry.