Bangladesh Nationalist Party forms opposition alliance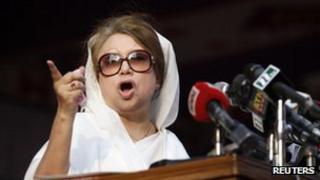 Bangladesh's main opposition party, the Bangladesh Nationalist Party (BNP), has announced the formation of a new, 18-party coalition.
The leader of the BNP and former prime minister, Khaleda Zia, declared the formation of the new coalition at a meeting in the capital on Wednesday.
The ruling Awami League said it was "not worried about the formation of the new opposition alliance".
Meanwhile, the BNP says a senior leader of its party has gone missing in Dhaka.
"We are forming this coalition to restore democracy and to preserve human rights and the fundamental democratic rights of the people of this country," Mirza Fakhrul Islam Alamgir, a senior leader of the BNP, told the BBC.
Analysts here view the BNP's latest move as an attempt to strengthen its efforts to launch a series of fresh anti-government protests and also to prepare for the general elections expected to be held in January 2014.
The previous alliance had four political parties, including the country's largest Islamist party, Jamaat-e-Islami.
'Loggerheads'
Nuh Ul Alam Lenin, a senior leader of the ruling Awami League, told the BBC: "Democracy is very much alive in the country. There is no need to restore it."
He added that the Awami League was not worried by the new opposition alliance, and that "there are only two main political parties in that coalition, BNP and Jamaat, and others are just signboard parties."
The BNP and the ruling Awami League-led coalition have been at loggerheads over a range of issues, from restoration of a neutral caretaker system to giving transit rights to neighbouring India.
The government abolished the caretaker administration arrangement, a requirement that parliamentary elections are to be overseen by non-partisan caretaker governments, last year. The Awami League leaders say the move came following a court's decision to scrap the system.
The BNP argues that any election under an incumbent government will not be free and fair. It also accuses the ruling coalition of stifling democracy by filing what they describe as false cases against its party leaders and activists. The government denies the accusations.
Meanwhile, the BNP says that Ilias Ali, organising secretary of the north-eastern Sylhet division, has been missing since Tuesday night.
Mr Ali's car was found abandoned near his residence. There has been no news about him since then.
"We still have no information about his whereabouts and we are worried about his safety," Tahsina Rushdi, the wife of Mr Ali, told the BBC.
Police say they are still investigating the case - one of numerous disappearances to have taken place in the country over the last year.