Afghanistan Taliban commander claims reward for his own capture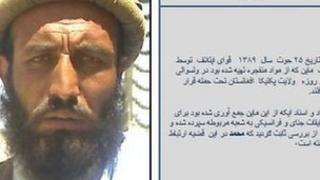 An Afghan Taliban commander wanted for organising attacks on Afghan and US troops has been captured after giving himself up and demanding the $100 reward for his arrest, officials say.
Mohammad Ashan is suspected of organising improvised explosive device (IED) attacks on US and Afghan troops.
He gave himself up to Afghan troops after approaching a checkpoint.
US forces later confirmed Mohammad Ashan's identity using a biometric scan.
The BBC's Bilal Sarwary in Kabul says that Mr Ahsan is a mid- to low-level Taliban commander in the south-eastern province of Paktika. He is not thought to have commanded a significant number of insurgents.
But the IED attacks he is suspected of a role in were damaging enough to prompt officials into putting up numerous "wanted" posters in the districts where he was active, he says.
Nato officials and Afghan troops are at a loss to understand why Mr Ashan attempted to claim a reward for his own capture, our correspondent adds.
Up until now, the tactic of using "wanted" posters for insurgents had not yielded many positive results, officials say.