US reassures Kabul it will support security forces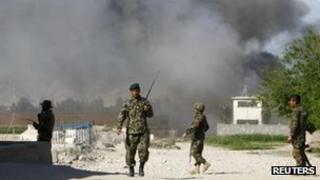 The US has sought to reassure Kabul that it will not abandon Afghanistan after the withdrawal of troops in 2014.
At a Nato meeting in Brussels the US Secretary of State Hillary Clinton offered reassurances that the country's national security force will be properly funded.
Afghans are gradually taking on responsibility for security and should be in full control by the end of 2014.
Nato is holding two days of talks to prepare for a summit in Chicago in May.
Mrs Clinton said co-ordinated attacks by the Taliban in Kabul on Sunday in which two Afghan soldiers and 17 militants were killed "show us that while the threat remains real, the transition can work.
"The response by the Afghan national security forces were fast and effective and the attacks failed... So the Afghans are proving themselves increasingly ready to take control of their own future".
She declined to detail exactly how much individual countries would contribute, saying they would make their own announcements.
Washington is looking for other nations to pay up to $1bn (£630m) a year, while it provides up to $3bn a year in support.
A final commitment on funding Afghan security is expected to be announced at the Chicago summit of Nato leaders next month.
Afghan President Hamid Karzai on Tuesday called on the United States to make a written commitment to pay a minimum amount of $2bn towards the maintenance of Afghan forces.
'Fair share'
Nato Secretary General Anders Fogh Rasmussen said he expected a clear picture of the size, structure and costs of a long-term sustainable Afghan security force to emerge this week.
But he said no concrete commitments on individual countries' contributions would be sought, either at the current talks, or at the Chicago summit.
"I would anticipate that Nato allies and Isaf [International Security Assistance Force] partners will commit themselves to contributing a fair share of this overall bill," he told a news conference after the first session of talks on Wednesday.
"It would be premature to present any concrete figures, but I would urge partners and allies to commit themselves to an overall framework for the financing of the Afghan security forces."
BBC defence correspondent Caroline Wyatt says one of Nato's toughest jobs now will be holding the military coalition in Afghanistan together as the alliance's combat mission draws to a close.
On Tuesday Australia announced that it was bringing home most of its troops almost a year earlier than expected.
Arriving for Wednesday's meeting, Mr Rasmussen said the move was "fully within the framework" of the agreed schedule for the handover of security from Nato to Afghan forces, according to AFP news agency.
Other nations in the coalition, including Canada, the Netherlands and France, have already pulled their forces out of combat or speeded up their withdrawal.
The Afghan National army will number about 350,000 soldiers in the next few months, with the US providing most of the training and logistical support.
A US plan predicts the Afghan army will be cut to about 230,000 by 2017. The planned reduction has worried some security experts in Afghanistan.