Tokyo to buy disputed islands, says Governor Ishihara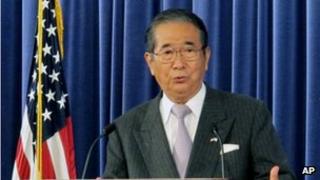 Tokyo's governor Shintaro Ishihara says he plans to use public money to buy a group of islands at the centre of a dispute between Japan and China.
The resource-rich island chain - known in Japan as Senkaku and in China as Diaoyu - are controlled by Japan, but claimed by China.
The move has been condemned by Chinese officials as illegal.
The islands, which are also claimed by Taiwan, have been a long-running source of tension between Japan and China.
Mr Ishihara, who is known for being outspoken, made the claim during a speech at the Heritage Foundation, a think-tank in Washington, on Monday.
He said that he was in discussions with the private Japanese owner of three of the islands in the disputed chain.
Controversy
Chinese Foreign Ministry spokesman Liu Weimin said in a statement that China had "indisputable sovereignty" over the islands, and that any unilateral action from Japan would be "illegal and invalid".
The islands are important because the surrounding area in the East China Sea has rich fish stocks and possible oil deposits, and is also close to key shipping lanes.
Japan-China relations were strained in 2010 when a Chinese fishing boat captain was detained following a collision with a Japanese coastguard vessel near the islands.
Both countries have sought to improve diplomatic relations since then.
Mr Ishihara, who is in his fourth term as Tokyo's governor, is known for making controversial and nationalistic comments.
A Japanese government spokesman said he was not aware of the plan and declined further comment, Reuters news agency reported.