Philippines and China in fresh maritime dispute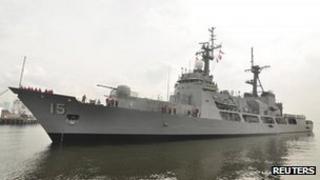 The Philippines and China have accused each other of further maritime intrusions in disputed waters following a stand-off last week.
The Philippines lodged a second formal diplomatic protest, saying China was harassing a research ship at the Scarborough Shoal, 230km off its island of Luzon.
China said the vessel was in Chinese waters and should leave.
A Philippine warship faced off with Chinese boats at the shoal last week.
A spokesman from the Philippines' Department of Foreign Affairs said that the archaeological research ship carrying the Philippine flag had been "harassed by Chinese ships and aircraft" at the shoal.
"We lodged the protest yesterday afternoon. The harassment of the vessel is part of the continued intrusion and illegal activities being done in the area," spokesman Raul Hernandez was quoted by the Agence-France Presse news agency as saying.
He said that scientists, including nine French nationals, were manning the boat.
But the Chinese embassy in Manila accused the boat of intrusion. "We urge the archaeological vessel to leave the area immediately," spokesman Zhang Hua said in a statement.
Territorial dispute
Philippine Foreign Secretary Albert del Rosario, in a statement , is asking China to settle the issue over the area at the International Tribunal on the Law of the Sea (ITLOS).
There has been no reply from China so far.
China claims sovereignty over virtually the entire South China Sea, bringing it into dispute with neighbouring countries in the region.
Some, including the Philippines, are looking to the US for support. The latest incident comes as the Philippines and the US hold joint military exercises.
The Philippines said its naval ship had found eight Chinese fishing vessels at the shoal when it was patrolling the area on 8 April.
Two Chinese surveillance ships then apparently arrived in the area, placing themselves between the warship and the fishing vessels, preventing the navy from making arrests and allowing the fishing boats to leave.
A Philippine coastguard vessel replaced the warship last Thursday. Two Chinese ships are reported to have remained in the area.
The US is guilty of hypocrisy for holding the exercises close to disputed waters, one Chinese newspaper said.
The party-controlled Global Times said the US was cementing a military partnership against China, despite claims that it was not trying to contain China.
Correspondents say Washington is strengthening its military position in the western Pacific, a move that has been welcomed by countries that are nervous about China's growing power and influence.