Photo of Afghan girl after bomb attack wins Pulitzer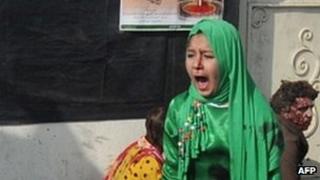 A photographer from the French news agency AFP has won a Pulitzer award for his photo of an Afghan girl screaming after a suicide bomb attack in Kabul.
Massoud Hossaini won the breaking news photography award for his picture, which shows young Tarana Akbari crying after the attack on the crowded Abul Fazel Shrine on 6 December.
The Pulitzer committee described the image as "heartbreaking".
Mr Hossaini said he was glad he had become a voice for the Afghan people.
"When I could stand up, I saw that everybody was around me on the ground, really bloody. I was really, really scared," said the girl, whose name means "melody", and who is now aged 11.
'Painful memories'
She still has nightmares about the day, and no longer wears her green dress, which was drenched in blood from the attack, AFP reported.
Over 70 people were killed in the blast, which coincided with the Shia Muslim festival of Ashura, and was the deadliest suicide bomb attack in Kabul in 2011.
Mr Hossaini, who was brought up in Iran before returning to cover the war in Afghanistan, said the image brings back painful memories.
"I don't look at it any more because my heart beats faster and it brings back the emotions of that day.
"I know that whoever sees this photo will think about the photographer but I hope they don't forget the pain Afghanistan's people have in their life," he said.
The Pulitzer prize, which started in 1917, honours excellence in journalism and the arts.