Vietnamese bloggers deny charges, third in leniency bid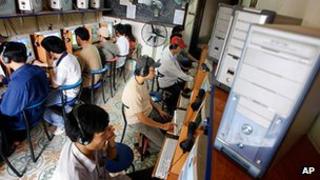 Two well-known bloggers in Vietnam accused of spreading anti-government propaganda have denied the charges, their lawyers have told the BBC, while a third has asked for leniency.
Nguyen Van Hai and Ta Phong Tan say they are not guilty of disseminating anti-state information and materials.
However the third blogger, Phan Thanh Hai, admitted the charges.
All Vietnamese media outlets are under state control. The trio are now in custody awaiting trial.
They face up to 20 years in prison if convicted.
Lawyers representing Nguyen Van Hai - who correspondents say is the best known of the trio - and Ta Phong Tan say that their clients "did not confess and did not sign the [police] interrogation paper".
Lawyer Ha Huy Son, defending Nguyen Van Hai, said his client "insisted he did not violate Vietnamese law".
Another lawyer, Nguyen Thanh Luong, said his client, Ta Phong Tan always "denied all the charges".
"Therefore, I will not ask for a lighter sentence at the trial because it would imply my client is guilty," he said.
A report in the Thanh Nien newspaper said that the bloggers posted 421 articles on the Independent Journalists' Club website between September 2007 and October 2010. The paper accused them of "distorting the truth, denigrating the party and state".
The newspaper said that Phan Thanh Hai and Nguyen Van Hai are also suspected of attending a training course in 2008 organised by a Vietnamese overseas political party, Viet Tan.
Viet Tan is considered by the Vietnamese government to be a terrorist organisation.
Correspondents say that Phan Thanh Hai's blog covered various sensitive issues in Vietnam, including a dispute with China over maritime boundaries, controversial bauxite projects, a scandal around a debt-laden state-owned shipbuilder and case studies of famous dissidents.
He was arrested in Ho Chi Minh City in October 2010. Police confiscated his two computers and numerous documents and articles printed from the internet.
Nguyen Van Hai was set to be freed from 30 months' imprisonment for tax evasion in October 2010, but was made to stay in jail because of the new charges.
Before his arrest in 2008, he took part in anti-Chinese protests over Vietnam's maritime territorial dispute with Beijing and a demonstration in Ho Chi Minh City against the Beijing Olympic torch relay.
The blog of former policewoman Ta Phong Tan denounced corruption and injustice in Vietnam's legal system.
Human rights groups including Amnesty International and Human Rights Watch have criticised the action brought against the trio.
Amnesty says that Nguyen Van Hai has lost a lot of weight and is ill. It says that he is a "prisoner of conscience", detained solely for the peaceful exercise of his right to freedom of expression.