Australia eases some sanctions against Burma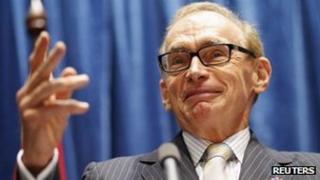 Australia has announced that it will ease some sanctions against Burma.
Foreign Minister Bob Carr said travel and financial restrictions on about 260 Burmese nationals, including President Thein Sein, would be lifted.
He made the announcement in London, where he was due to meet British Foreign Secretary William Hague.
Australia's announcement came after British Prime Minister David Cameron said in Burma on Friday that the UK was considering lifting sanctions.
''We're easing sanctions after talking to Aung San Suu Kyi and others in the opposition, after talking to the government itself, (and) after talking to other nations," Mr Carr told reporters.
The sanctions will reduce the number of people placed on the list for financial and travel restrictions from 392 to about 130, said a statement from Australia's Minister for Trade and Competitiveness Craig Emerson.
Those removed included civilians, reformists in the government and President Thein Sein, said the statement, while ''serving military figures and individuals of human rights concern will remain'' on the list.
Australia will also be retaining its arms embargo.
But it will ''discontinue its policy of neither encouraging nor discouraging trade nor investment with Burma'', said Mr Emerson.
"I welcome the opportunities that normalised trade ties will present for the Burmese people and Australian companies," he said.
With the easing of some sanctions, Australia joins others in the international community in welcoming reforms underway in Burma, he added.
Strengthening reform
On Friday Mr Cameron said economic sanctions against Burma should be suspended in recognition of the changes taking place there, after meeting both President Thein Sein and pro-democracy leader Ms Suu Kyi.
Ms Suu Kyi, who led her National League for Democracy (NLD) party to win 43 seats in by-elections earlier this month, welcomed his call and said the suspension of sanctions would "strengthen the hand of the reformers".
Mr Cameron is the first UK prime minister to visit Burma since it gained independence in 1948.
European Union foreign ministers are to discuss policy towards Burma on 23 April and sanctions are due to expire on 30 April unless leaders choose to renew them.
If they are satisfied that recent steps taken by the government are likely to be sustained, they could ease certain financial sanctions.
Earlier this month, following the by-election in Burma, the United States announced it will further ease sanctions against Burma.
Secretary of State Hillary Clinton, who visited Burma in December last year, said some travel and financial restrictions would be relaxed, with Burmese leaders allowed to visit the US.
Under the moves, the US will name an ambassador to Burma and establish an office for its Agency for International Development in the country.
The various moves on sanctions come amid a process of reform in Burma that began with the election of a military-backed nominally civilian government in November 2010 that ended decades of military rule.