Australian Greens leader Bob Brown resigns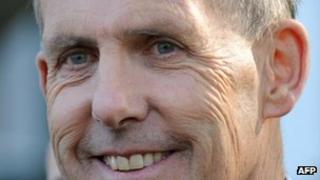 The long-time leader of Australia's Greens, on whom PM Julia Gillard relies for her majority, has resigned.
Senator Bob Brown, 67, has represented the state of Tasmania for 16 years for the environment-focused party.
He said Greens support for Ms Gillard would remain. Greens Deputy Leader Christine Milne will replace him.
In a statement, Ms Gillard thanked him for his "remarkable contribution" to Australian politics.
"It is prime time to hand over the reins," said Mr Brown, who did not give a reason for his leaving. He said he had informed Ms Gillard about his decision.
"The arrangement with the government will be the same," he added, saying he planned on pursuing personal interests after leaving the senate in June.
Ms Gillard's administration has a one-seat majority in parliament that is reliant on the support of the Greens and two independent lawmakers.
Mr Brown gained national fame as an environmentalist in the 1980s.
He is credited with bolstering the Greens, which now has nine seats in the Senate and one seat in the House of Representatives - the most of any third party in Australian politics since the war.
"Under Bob's wise leadership, the Greens have grown into the undisputed third force in Australian politics," Ms Milne said.