Pakistan shifts stance towards US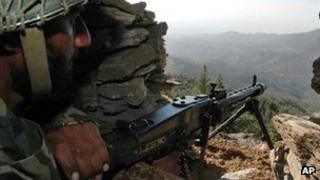 The Pakistani parliament has issued new guidelines that may allow Islamabad to repair ties with the US.
The guidelines, supported by Pakistan's prime minister, demanded an end to US drone strikes on Pakistani soil.
Correspondents say the proposals may pave the way for reopening Nato supply routes to Afghanistan.
Pakistan blocked the routes last November, following a Nato air strike on a Pakistani border post that killed more than 20 soldiers.
The government must now decide how to act on the proposal, which also calls for an apology from Nato.
Prime Minister Yousuf Raza Gilani told MPs he would enforce the proposal in "both letter and spirit", but did not mention the issue of the supply lines.
The guidelines on ties with the US say Nato should still be banned from moving arms or ammunition through Pakistan. Before the Pakistani blockade on the border the US sent fuel trucks, but not munitions, into Afghanistan from Pakistan.
Analysts in Islamabad interpret the new statement as a sign that supplies other than weapons will get the green light, the BBC's Ilyas Khan reports.
Prime Minister Gilani said it was time for re-engagement with the international community "with dignity, honour and self-respect". "We cannot live in isolation," he was quoted as saying.
The MPs' proposal did not make a resumption of non-weapon supplies to Afghanistan conditional on a US cessation of drone strikes - a condition that some politicians had campaigned for earlier.