Neil Heywood death: Chinese wife 'suffering'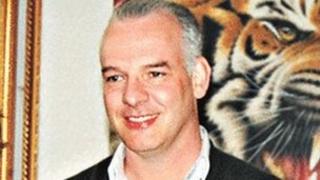 The wife of a British citizen thought to have been murdered in China is too upset to talk publicly about her husband's death.
Wang Lulu said she did not want to talk about an incident that has sent shock waves through China's establishment.
But a close friend told the BBC she was "suffering", especially because she had to bring up her two children.
The death of British businessman Neil Heywood is key to the downfall of China's popular politician Bo Xilai.
Mr Bo's wife, Gu Kailai, has been detained, suspected of being involved in the murder of Mr Heywood, a family friend.
Mr Bo was stripped of his positions at the top of the Chinese Communist Party for "serious discipline violations" connected with the death.
His downfall is perhaps the biggest political crisis to hit China since the protests and massacre in Beijing in 1989.
Later this year, the party will have a once-in-a-decade leadership change. China's leaders had hoped that would go smoothly.
Mr Bo's political demise has thrown that planning into disarray.
Sensitivities
Outside her home, Mr Heywood's Chinese wife said she was "sorry" she could not speak about the death, but she was too "sad".
But a close friend, who did not want to be named, told the BBC: "She's really suffering at the moment so please understand her - she's just lost her husband."
He added: "It's not easy for her because she has to bring up her children."
She has a son and daughter, who attend an international school in Beijing.
The family friend, who lives near Ms Wang, said that she might be willing to speak about what had happened in the future.
They live in a private, tree-lined compound on the outskirts of Beijing occupied by expensive villas.
Mr Heywood's S-type Jaguar, with a Union Jack bumper sticker, is still in the drive of the family home, parked next to three bicycles.
It is an exclusive Western-style setting, home to rich Chinese and foreign families.
China is sensitive about this case - the BBC was asked to leave the compound by security guards.
Fans and enemies
Mr Heywood was found dead in a hotel room in the city of Chongqing - where Mr Bo was in charge - last November.
Police said he had died of "excess alcohol", an explanation that was initially accepted by Mr Heywood's family and the British embassy.
But after being told of concerns by some of the Briton's friends, the British government asked the Chinese authorities to reopen the investigation, which they did.
Earlier this week, they came out with the startling announcement that the wife of Mr Bo - until Tuesday a member of the party's politburo - was suspected of being involved in the murder of Mr Heywood.
The Chinese authorities say Gu Kailai, and her son, had a conflict with Mr Heywood over "economic interests".
It is not yet clear how Mr Bo is connected to the death, but the authorities said that his sacking and the suspected murder are linked.
Mr Bo was a popular although divisive politician who was hoping to be promoted to the party's Politburo Standing Committee later this year.
Journalist John Garnaut is writing a book about China's "princelings": people, like Mr Bo, who are children of senior revolutionaries.
He said: "We know that Bo Xilai had more enemies than anyone that's been around in modern China. He also had a huge fan club as well.
"There were plenty of people waiting with their knives out. The question is: could anybody have stopped him if there wasn't a murder in Chongqing?"