Bo Xilai's wife suspected over 'murder' of Briton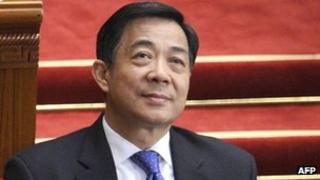 The wife of a disgraced Chinese politician once tipped as a future leader has been detained over the suspected murder of a British national.
Gu Kailai has been "transferred to the judicial authorities" as part of an investigation into the death of Neil Heywood, state news agency Xinhua said.
Her husband Bo Xilai, former Chongqing party chief, has been stripped of key posts in the ruling Communist Party.
He had been one of China's most popular politicians.
The news that his wife is now a suspect in a murder investigation only intensifies the rumours swirling around him.
Mr Bo, 62, suffered a spectacular fall from grace last month when he was sacked as party chief in Chongqing.
This came after his police chief Wang Lijun spent a day holed up in the US consulate in Chengdu.
It was rumoured that Mr Wang had been attempting to defect.
The suggestion was that he had been demoted by an angry Mr Bo after the officer had alerted him to the fact that the mayor's family was the subject of a police investigation linked to Mr Heywood's death in November.
While in the consulate Mr Wang alleged that Gu Kailai had been involved in murdering 41-year-old Mr Heywood in Chongqing, Xinhua reported.
Police said after Mr Heywood's death that he had died from excessive drinking and his body was cremated. However, his friends said he did not drink that much.
The new allegations led to a second investigation. Xinhua says this showed that Gu Kailai and her son were in "conflict" with Mr Heywood over "economic issues", and these had intensified despite them being friends.
'Good friend'
Mr Bo has been dismissed from the Communist Party's hugely powerful 25-member Politburo, and the 300-member Central Committee due to suspected "serious discipline violations", Xinhua reported on Tuesday.
The exact nature of Mr Heywood's role and his relations with the family are unclear and have been the subject of much speculation inside and outside China.
"According to reinvestigation results, the existing evidence indicated that Heywood died of homicide, of which [Gu Kailai] and Zhang Xiaojun, an orderly at Bo's home, are highly suspected," the news agency reported.
News of the reinvestigation was welcomed by UK Foreign Secretary William Hague, who had recently called on the Chinese authorities to look again at Mr Heywood's death.
"The Chinese are doing as we asked them to do and we now look forward to seeing those investigations take place and in due course hearing the outcome of those investigations," he said.
The BBC's China correspondent Martin Patience describes the developments as the biggest scandal to hit China in many years.
Mr Bo, who made his name taking on corruption in Chongqing, had been expected to be elected to the Politburo's standing committee later this year - as the party prepares for a once-in-a-decade change of leadership.