North Korea 'to mount satellite for rocket launch'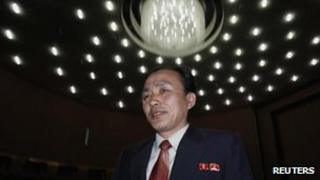 North Korea is poised to complete preparations for its rocket launch scheduled for later this week, an official said in Pyongyang.
A satellite will be installed on the Unha-3 rocket by the end of Tuesday, the official told foreign journalists in a rare press conference.
The official dismissed concerns that the launch was a cover for developing missile technology as "nonsense".
Three Asian airlines have made changes to flight paths to avoid the rocket.
"We are expecting to complete assembly by today," said Ryu Kum-chol, deputy director of the space development department at the Committee of Space Technology.
He said the launch - scheduled between 12-16 April - was part of the peaceful development of a space programme. North Korea says it will mark the 100th anniversary of the birth of late leader Kim Il-sung.
But the opponents of the move say it contravenes UN resolutions that were imposed after a similar launch in April 2009.
Russia said on Tuesday said that Pyongyang's plans showed ''disregard'' for the resolutions.
"The way out of the situation should be sought on the political and diplomatic track," said Russian Foreign Ministry spokesman Alexander Lukashevich, quoted by state-run news agency RIA.
China, one of North Korea's closest allies, urged all parties to remain calm.
"We call on parties concerned to stay calm, exercise restraint and avoid escalation of tensions on the Korean peninsula," foreign ministry spokesman Liu Weimin said at a press briefing on Tuesday.
A Pentagon spokesman said US Defence Secretary Leon Panetta had spoken to his South Korean counterpart on the phone late Monday. Both leaders would regard the launch ''as a serious provocation'', the spokesman said.
Japan and South Korea have warned they will shoot the rocket down if it threatens their territory.
Route changes
Meanwhile the Philippine Airlines said ina statementthat it will change the flight path of about a dozen flights between Manila and the United States, Canada, Japan and South Korea.
Philippine officials have also declared a no-fly zone and warned ships and fishing boats to avoid the area where rocket debris could fall.
JAL said ina noticethat the flight paths of four flights between Tokyo and Manila, Jakarta and Singapore would be adjusted, leading to an increase in flying time by five to 20 minutes.
ANAannounced changesto the flight paths of five flights between Tokyo and Singapore, Manila and Jakarta, but said that flight schedules will not be affected.
On Sunday, officials invited foreign journalists to the Sohae satellite station at Tongchang-ri, on the country's north-west coast. All three stages of the rocket were visibly in position at the launch pad.
North Korea's parliament is also meeting this week ahead of the formal celebrations to commemorate Kim Il-sung on 15 April.
On Monday, thousands of people gathered in Pyongyang to witness the unveiling of a new portrait of Kim Jong-il, who died in December 2011.
Pyongyang had agreed in February to a partial freeze in nuclear activities and a missile test moratorium in return for US food aid. But the deal was put on hold last month after the North announced its rocket launch plans.