Afghanistan suicide blasts 'kill 18' in Herat, Helmand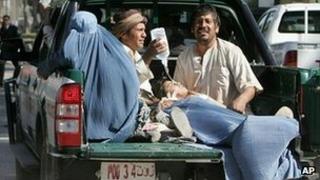 At least 18 people have been killed in three separate suicide bombings in Afghanistan, officials say.
In western Herat province, eight civilians and three policemen died when suicide bombers detonated their vehicle at a government office, officials say.
The attackers struck as people queued to see local officials on business.
Later, seven policemen were killed in two suicide attacks in the Musa Qala district of southern Helmand province, the authorities said.
In the first Helmand attack, four policemen were killed when three suicide bombers attacked a police compound in Musa Qala district, according to provincial spokesman Dawood Ahmadi.
Two of them detonated explosive belts strapped to their bodies, while a third attacker was shot by police.
The district's police commander was among those wounded.
Another three policemen were later killed in a suicide attack in the bazaar of Musa Qala. Six people - four policemen and two civilians - were wounded in that bombing.
Mr Ahmadi told the BBC's Bilal Sarwary, in Kabul, that the Taliban's use of suicide attacks is a sign of weakness.
"They have lost their ability to fight face to face, so they are laying mines and carrying out suicide attacks. Local people are not letting them into their homes and villages."
Helmand police and intelligence officials told the BBC that the Taliban were attacking the security forces after failing to fulfil a promise to help local farmers prevent a poppy eradication programme currently under way in the province.
Afghanistan's police are playing an increasingly important role in the country's security as Nato combat troops prepare to pull out in 2014.
Helmand is one of the most volatile provinces of Afghanistan, frequently witnessing attacks by insurgents.
Car chase
In the Herat attack, an explosives-laden car blew up outside the local government headquarters in Guzara district, 10km (6 miles) south of the provincial capital, Herat, killing 11 people.
Eyewitnesses saw shattered bodies and mangled metal after the blast. At least 21 people were injured.
Police spokesman Raouf Ahmedi said local police had received a tip-off that a black four-wheel-drive vehicle was laden with explosives.
"They were chasing the car and tried to stop it," he told the AP news agency.
"The vehicle then turned toward the district headquarters building and tried to pass the checkpoint, but police stopped them to be searched and asked where they were going," he said, adding that the car exploded moments later.
He said three people had been in the vehicle, including a woman wearing a burka.
Most of the casualties were civilians who had come to the government offices on business, with many women and children among them.
Guzara district lies near Herat city's airport, where many international and Afghan troops are based.
Correspondents say the province of Herat has been relatively quiet, with insurgent attacks instead concentrated mainly on the south and east of Afghanistan.
There is normally a surge in the number of Taliban attacks at this time of year following a relative lull in winter, when bad weather restricts the movement of fighters.
Nato handed security control of the city of Herat to Afghan forces in July 2011, ahead of a full combat troop pullout scheduled to be completed by the end of 2014.
Herat was one of the areas that saw violent protests following revelations that US troops had inadvertently dumped copies of the Koran in an incineration pit at a Nato base in February.