South Korean politicians vie for the youth vote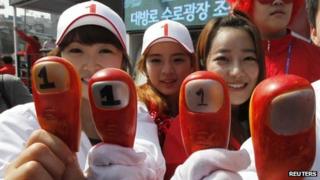 As South Koreans prepare to vote in parliamentary elections on Wednesday, the BBC's Lucy Williamson in Seoul explains how the campaigns of both the main parties have had to focus on the new generation.
Cho Myung-chul is looking very pleased with himself.
Standing on the stage alongside a handful of young break-dancers in shiny tracksuits, he is looking very much at home in the red uniform of South Korea's ruling Saenuri party.
Surprising, when you consider that Mr Cho is North Korean. Now settled in the South, he is aiming to become the first North Korean to win a seat in South Korea's parliament.
"People are very surprised when they learn I'm from the North," he said, "and when they realise that someone from the North is trying to enter the heart of South Korean politics. It would have been unimaginable in the past."
Mr Cho is one of several new faces brought on to the ruling conservative party's ballot paper for Wednesday's parliamentary elections, in which all 300 seats are up for grabs.
The party's new name, Saenuri, means New Frontier Party and - like its opposition rival, the Democratic United Party - it has been frantically rebranding and repositioning itself to appeal to younger voters, who are seen as holding the key to this election.
'Open their eyes'
But even among his new colleagues, Mr Cho is in a unique position.
The election has been overshadowed by the North Korean government's plans to launch a long-range rocket this month.
To put a satellite in space, the North says; to test banned ballistic missile technology, says South Korea.
Mr Cho is not saying whether the North's plans have helped or hindered his campaign but the issue does come up, he says.
"North Korea is not helping itself," he said. "It should come out and join the international community and stop making things worse. Its actions are just helping South Korea consolidate its position."
But North Korea - and even the economy - are having to fight for space in this election.
Most of the country's main TV networks are facing strikes by journalists who say they are not allowed to report bad news about the government.
In the union office of Korea's public MBC news network, I met one of their best-known presenters, Choi Seung-ho. He has worked there for 26 years, he said, and political interference from the country's top politicians is worse than ever.
"The president has a big say in electing the heads of the public broadcasting companies," he said. "So some of these media heads try to suppress the opposition opinions, and just convey what the ruling party says. We call them 'parachutes' - parachuted in from the government."
Outside in the lobby, a couple of hundred journalists are staging the latest in their months-long series of sit-ins.
Opinion is divided among the public over whether the strikes are about reporting the election - or influencing it. The local Mediaworkers Union leader, Chung Young-ha, agrees that the two issues have become conflated.
"This has made people think about how unbalanced news can affect national events. Our strike will help boost voter turn-out," he said.
"Those who've been uninterested in politics are realising that, to change the system, they need to make themselves heard as individual voters. This has been an opportunity to open their eyes."
High stakes
The striking journalists have begun broadcasting their own stories on the internet - which, many South Koreans believe, is the only real source of news anyway.
The runaway success of new forms of political debate - via social media and satirical podcasts - has created a new generation of politically-engaged voters.
With the two main parties currently running neck and neck, it could be that it is the new generation who decide this election.
So, as well as featuring break-dancers in shellsuits, the ruling conservative party is also engaging with traditionally left-wing issues like welfare, to try and win them over.
And even the main opposition party is running new candidates and emphasising its social media credentials.
Even that may not be enough to win them over though.
Six months ago, a political novice with no party affiliation won control of the city government in the capital Seoul, thanks to new young voters and a grassroots, internet-based campaign.
The stakes this time around - how to run the national economy and how to deal with North Korea - are much higher.